Oklahoma State right-hander Juaron Watts-Brown finally got his much-anticipated start in the No. 12 Cowboys' rubber match against No. 22 Texas Tech. The Red Raider bats were unfazed, as they knocked the heralded Long Beach State transfer around for eight runs (four earned) en route to a 12-1 series-clinching, run-rule victory Sunday afternoon at Dan Law Field at Rip Griffin Park.
"Against a guy like Juaron, you gotta do a really good job of extending at-bats," Tech head coach Tim Tadlock. "It takes all phases, you gotta do the best you can to extend innings and play baseball the right way."
The Red Raiders tagged Watts-Brown for two runs in the second inning — an RBI double from freshman center fielder Gage Harrelson, who later scored on a sac fly from third baseman Kevin Bazzell — before blowing the game open with a 10-run fifth inning.
"That's an elite arm right there," senior left fielder Nolen Hester said of Watts-Brown. "But I think our hitters are just as good, and we're gonna go up there and compete no matter who you are."
"He started to rely on (his off-speed pitches) a little more, and so it was getting a little more predictable ... I think that's what led to us having success against him," Hester said. 
Six of the 10 runs were attributed to Watts-Brown; junior second baseman Austin Green kicked off the surge with a one-out grand slam and freshman right fielder Damian Bravo chased Oklahoma State's starter out of the game with a two-out, two-run home run over the right-center field wall.
The Red Raiders opened the floodgates on the Cowboys' bullpen, rattling off six straight base hits on relievers Michael Benzor and Ryan Bogusz, including an RBI single off the bat of Green. The two-out knock gave the Weatherford transfer a team-high 35 RBIs. 
A trio of arms kept the Oklahoma State lineup in check, as starter Taber Fast, sophomore right-handed pitcher Brandon Beckel and junior lefty Ryan Free combined to shut out the Cowboys for the final six frames.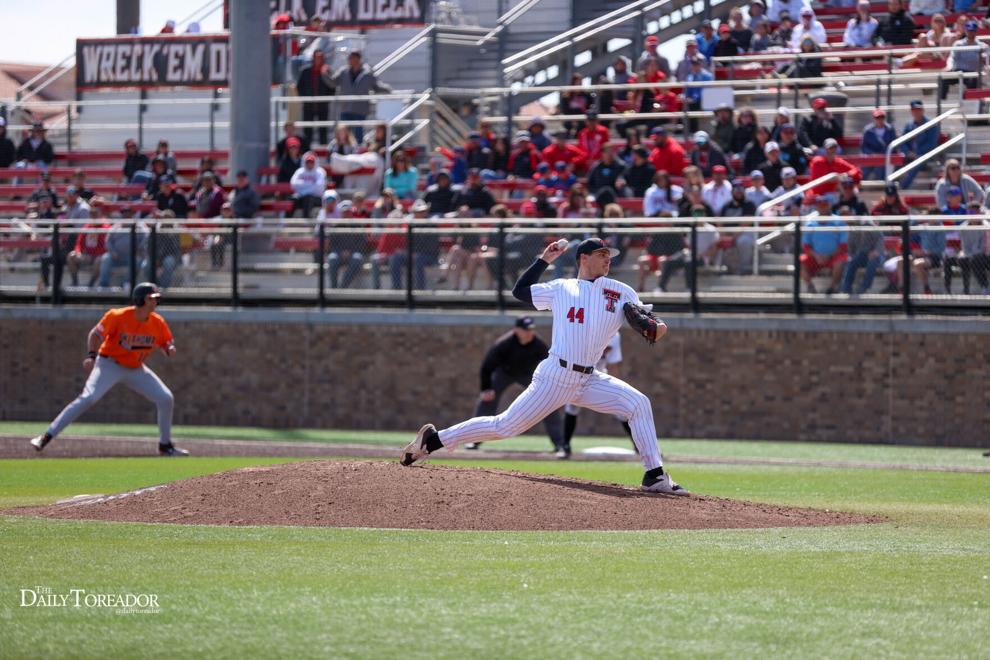 Beckel lowered his team-leading ERA to 0.64 with 2.1 scoreless innings, though he may miss time after appearing to get disciplined following a strikeout to end the sixth inning. 
Tim Tadlock declined to say what went on in the middle of the sixth inning or whether or not Brandon Beckel was ejected. Here's what he did say:"College baseball is supposed to be played with some emotion ... the kid (Beckel) played with a little bit of emotion (cont.)

— Chris Williams (@ChrisWilliamsDT) March 19, 2023
Six Red Raiders posted multi-hit games as they secured their fifth straight series win. Tech returns to Big 12 action Friday when it starts a three-game road series against Texas.