The No. 16 Texas Tech baseball team will open conference play against the No. 2 Texas Longhorns at Dan Law Field at Rip Griffin Park. The three-game showdown is scheduled to begin at 6:30 p.m. on Friday.
Tech heads into the matchup with the top overall record by win percentage in the Big 12 with 81.6 percent (18-4), a conference that currently boasts four teams in D1Baseball's Top 25, with two in the top 10.
Texas leads the pack at No. 2, with Oklahoma State following at No. 9. Tech and TCU enter at No. 16 and 19, respectively, to round out the conference.
Tech sophomore right-handed pitcher Chase Hampton said the Red Raiders are hitting its stride at this point in the season.
"I feel like we're very hard to beat," said Hampton, who has accumulated a 3-1 record in five starts this season. "Our pitching and hitting has come a long way and I think we're going to be really good."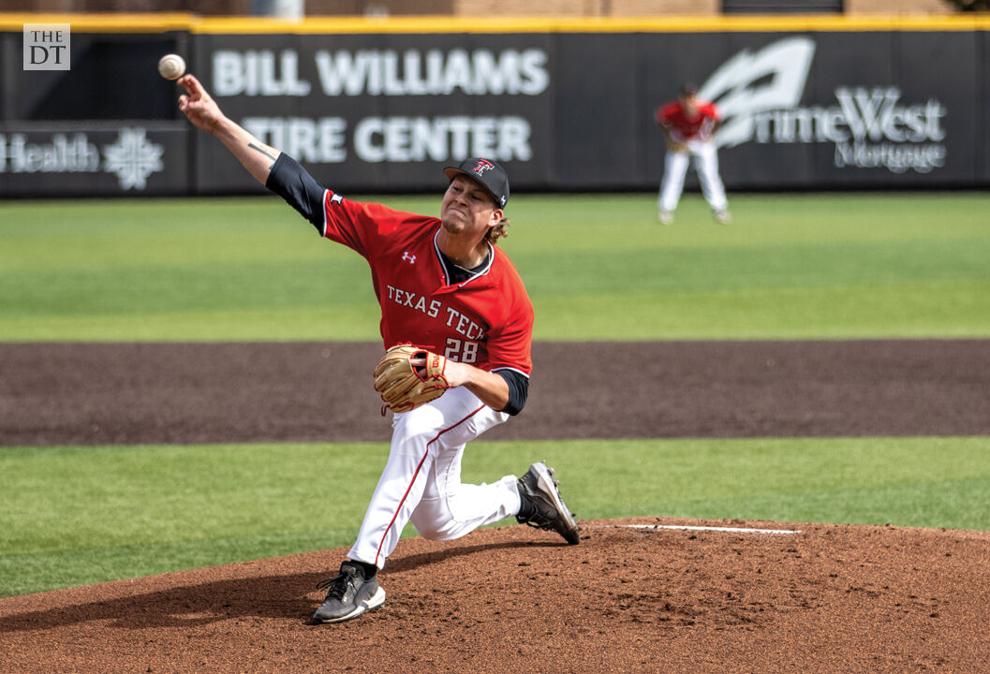 The Red Raiders' offense has led their success so far this season, as they have scored a conference-best 202 runs in 21 games. They also lead the nation in drawn walks with 144, according to the NCAA.
Tech head coach Tim Tadlock said his staff has given their hitters more room for trial and error when in the box, which has resulted in 196 strikeouts as a team thus far.
"We're a work in progress as that goes," Tadlock said. "We want to give our guys the freedom to learn how to hit. The easiest way to learn how to hit is to go up there and be aggressive."
Preseason Big 12 Player of Year Jace Jung has drawn plenty of caution from opposing pitchers this season, drawing 23 walks this season, tied for third most in the country, according to the NCAA. The sophomore second baseman also leads the Red Raiders in batting average, OPS, on-base and slugging percentage, according to Tech Athletics.
Tech's pitching staff has fanned 244 batters this season, led by junior right-handed pitcher Brandon Birdsell's 43. Birdsell struck out 15 batters while walking none in six innings against Rice University on March 12,  according to Tech Athletics.
The Longhorns entered the season with high expectations after a 50 win season that culminated with an appearance in the 2021 College World Series. A consensus preseason favorite, Texas topped many preseason Top 25 rankings including Baseball America, D1Baseball, and the National Collegiate Baseball Writers Association (NCBWA). 
Texas got out to a hot start, rattling off 11 wins to open their season before falling to UCLA in the Shriners Children's College Classic on March 6. The Longhorns outscored their opponents 85-13 during that span, according to Texas Sports.
Leading the Texas baseball program is sixth-year head coach and reigning Big 12 Coach of the Year David Pierce. Texas is Pierce's third stop as a head coach, where he has led the Longhorns to a record of 199-99 during his tenure, according to Texas Sports.
Adding to the anticipation for this year's squad, the Longhorns had seven players named to the Big 12 team, including preseason pitcher of the year Pete Hanson, according to Texas Sports. Settling into the Friday night starter role, Hanson has won all five of his starts this season, including two shutouts to open the year. The pitching staff has thrown five shutouts overall this season, tied for first in the nation, according to the NCAA.
Offensively, Texas is led by redshirt junior first baseman Ivan Melendez, who returned to the team after being selected in the 16th round of the 2021 MLB Draft by the Miami Marlins. Melendez, dubbed the 'Hispanic Titanic', has drilled 10 home runs this season, tied for third most in the nation and most among Big 12 players, according to the NCAA. 
He earned Big 12 Player of the Week during the week of March 13, the same week that Tech junior Brandon Birdsell took home Pitcher of the Week honors, after hitting four home runs in five games during the week.
A Longhorn has been named conference player of the week for two straight weeks after senior right fielder Murphy Stehly took home the honor on Monday. Stehly has started all 22 games he's appeared in this season, batting a team-high .443 while driving in 22 runs, according to Texas Athletics.
The Longhorns have won both of their ranked matchups this season, defeating No. 17 Tennessee and No. 7 LSU in back-to-back games during the Shriners Children's College Classic at Minute Maid Park in Houston.
The Red Raiders are 1-2 against ranked teams this season after splitting their midweek series against No. 23 Mississippi State in Biloxi, Miss. on March 8 and 9. 
Junior first baseman Cole Stilwell said the prospect of playing the number two team in the nation isn't much different than any other opponent.
"I think we try to play every game like we're playing Texas, like 'don't take any opponent lightly'," said Stilwell, who has started 111 career games for Tech. "There's obviously going to be more jitters and stuff going on, but I think we're ready. We're gonna treat it like it's just a baseball game."