Texas Tech football's spring season culminated on Saturday with the program's annual Spring Game, hosted this year at Lowrey Field at PlainsCapital Park as renovations continue at Jones AT&T Stadium.
It was a gusty spring finale, which saw the active roster split into two teams, Team Red Raiders and Team Fearless. It was an unorthodox format, as a running clock paced the first, second and fourth quarters, while the third quarter was reserved for a "red zone lockout" period (both teams start each possession at the 20-yard line).
Ultimately, it was Team Fearless who came out victorious with an official final score of 19-15.
#TexasTech HC Joey McGuire said his biggest priority in spring games is health:"It's your last practice (so) you're making sure, like 'please come out healthy' and make sure everybody that came in, walks out of here in good shape and we did. We were really healthy." pic.twitter.com/l3utMVyOc2

— Chris Williams (@ChrisWilliamsDT) April 22, 2023
Tyler Shough led Team Red Raiders as quarterback, while Behren Morton manned the position for Team Fearless. Morton finished 12-20 for 143 yards passing with a touchdown and an interception. Shough, on the other hand, wasn't as efficient against Tech's first-team defense, finishing 10-23 with a pair of interceptions.
Highly-rated true freshman quarterback Jake Strong played the entirety of the fourth quarter, finishing with a clean line of 7-12 and 69 yards.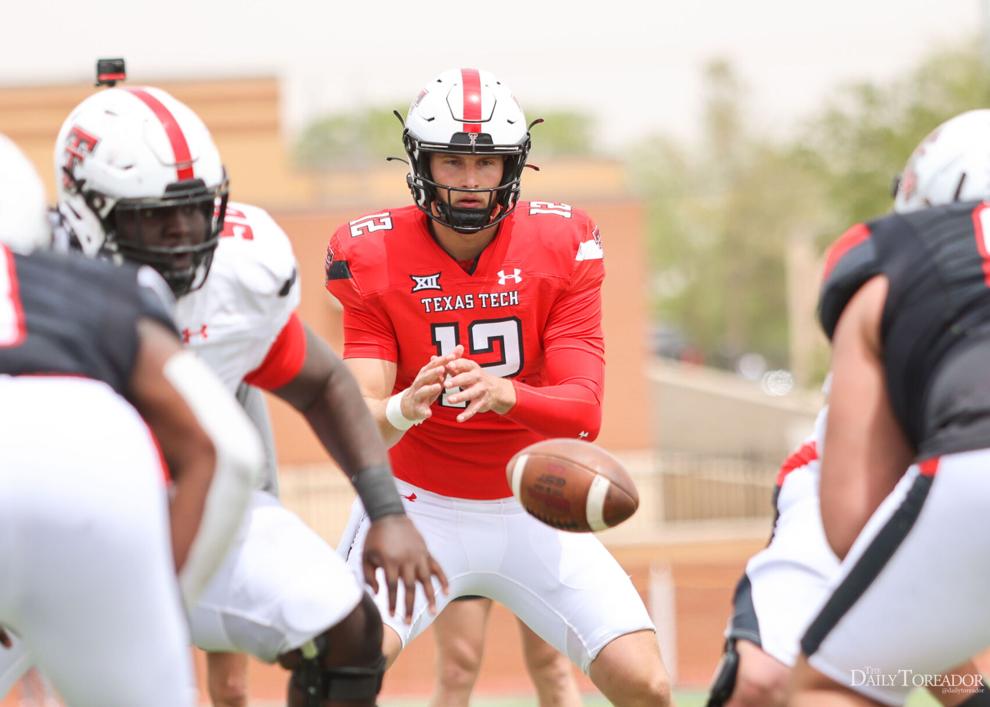 Wide receiver Myles Price, who caught balls from both Morton and Shough in 2022, gave his assessment of the Red Raider gunslingers postgame.
"Really the same thing I've seen all spring. I know what I was going to get," Price said. "They're gonna go through progressions, hit us when we're open make good plays, honestly."
Shough's first throw of the afternoon was tipped at the line of scrimmage and picked off by linebacker C.J Baskerville. The San Diego State transfer came to Lubbock as the heir apparent to Marquis "Muddy" Waters, who shined in Tech's STAR position during his lone season as a Red Raider.
Baskerville introduced himself to Tech fans with a team-high six total tackles, 1.5 of which resulted in a loss of yardage.
"Today was just playing with Red Raider speed and violence, you know, that was  kind of the thing going into today," Baskerville said. "Today I wanted to come out and show what I was really about."
Baskerville's interception was one of three for the Tech defense, which embraced the mantra "take three" throughout the 2022 season. Defensive back Dadrion Taylor-Demerson also picked off Shough to end Team Red Raiders final drive of the first half, while linebacker Ty Kana capitalized on a Morton miscue near the goal line early in the second quarter.
"That was huge. Even though we don't have all of our guys, all of our starters in, to be able to get three turnovers against our offense, it boosted our confidence," Baskerville said. "That was our goal going into today. That's our goal every practice, every game, every meeting we're talking about turnovers, turnovers, turnovers."
With question marks surrounding Tech's special teams unit following the departure of everyday placekicker Trey Wolff, the kicking team was seemingly flawless in the spring game. Gino Garcia went 3-3 on kicks from 50, 46 and 23 yards out, while redshirt freshman Stone Harrington went 2-2 in his attempts.
"The thing that we've really got to focus on this summer in the kicking game is our kickoffs. We are still not consistently putting the ball in the endzone ... you don't want balls returned," McGuire said. "Right now we're not there, so that's going to be a big focus this summer."
The Red Raiders begin their regular season Sept. 2 at Wyoming, before hosting Oregon the following week for their home opener.