Nine girls and nine batons make up this year's Texas Tech Twirlers team.
Traditionally, there are 10 twirlers, one of whom is a featured twirler and marches on the football field. Additionally, a featured twirler is an individual, usually chosen as a freshman, who travels throughout the band's marching formation performing more advanced moves.
Bethany Tolley, twirler coach for Tech, said there will not be one this season because of a lack of underclassmen at spring tryouts.
"We do not have a featured twirler this year, so that cut our number down by one," Tolley said, "but this group of girls work hard every day and are fun to watch. Sydney Webster has been our featured twirler for four years but graduated this past year. She left big shoes to fill, and because we did not have many incoming freshmen try out for us this year, we decided to focus on our line."
Tolley said she has already begun recruiting a new feature twirler for next season, but for now, she is enjoying coaching her current team.
"It's been a blessing coaching these girls," she said. "It is fun watching them grow and succeed. We have great leadership on our team, and they make my job a lot easier."
The team this year consists of four seniors, four juniors and one sophomore, Tolley said.
Only a few incoming freshmen tried out for the team in April. Tolley said the tryouts mainly consisted of either transfer students or those who did not make the team the previous year but persistently worked hard and improved for the next tryout.
"We do not have any freshmen on our team, but we do have three new members who are all upperclassmen," Allyson Padron, twirler captain and a senior nutrition major from San Antonio, said. "Because everyone is older and already living in Lubbock, we were able to start preparing for the season back in June. It made the transition easier."
The twirlers have two seasons to perform in: football and competition/spring twirling, Padron said.
"My favorite part about football season is the free game," Megan Bass, a new member of the group and a junior human development and family studies major from Lufkin, said. "It is before the games starts and is more unique."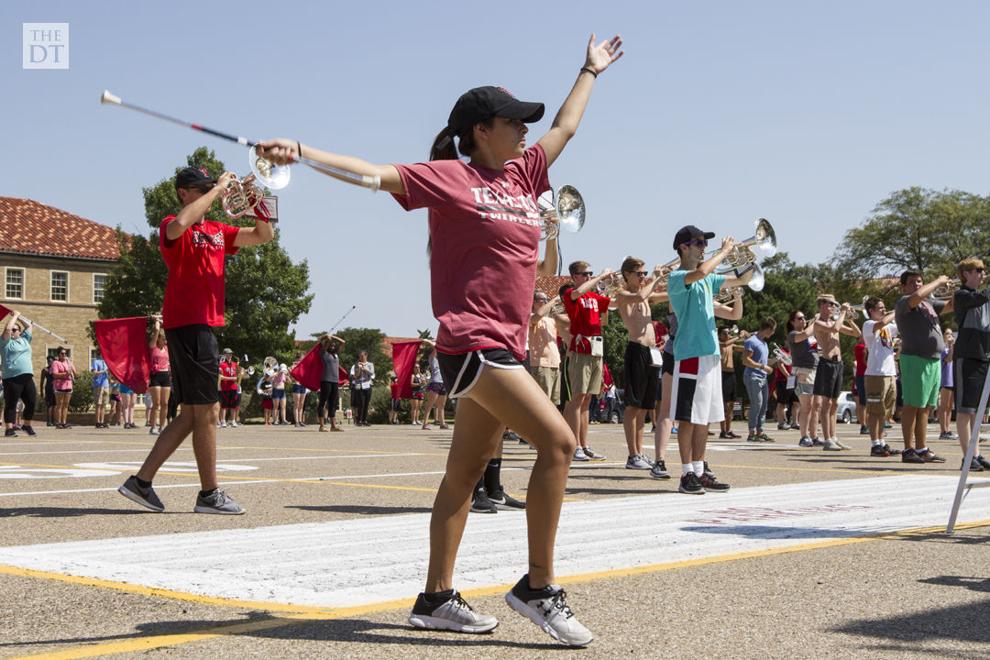 The twirlers will also travel with the Goin' Band to three away games during the football season, according to Tolley.
"As far as the entire band, our shows are really cool this year," Padron said. "We will be able to do a lot with that."
Padron also said after the end of football season, the team will begin preparing for competition twirling in January.
"I am excited to go to competitions," Bass said. "I have never gotten to do them, so it will be a whole new experience."
Tolley said the major spring competitions are regionals in March, state, which is the last weekend of June, and nationals in July.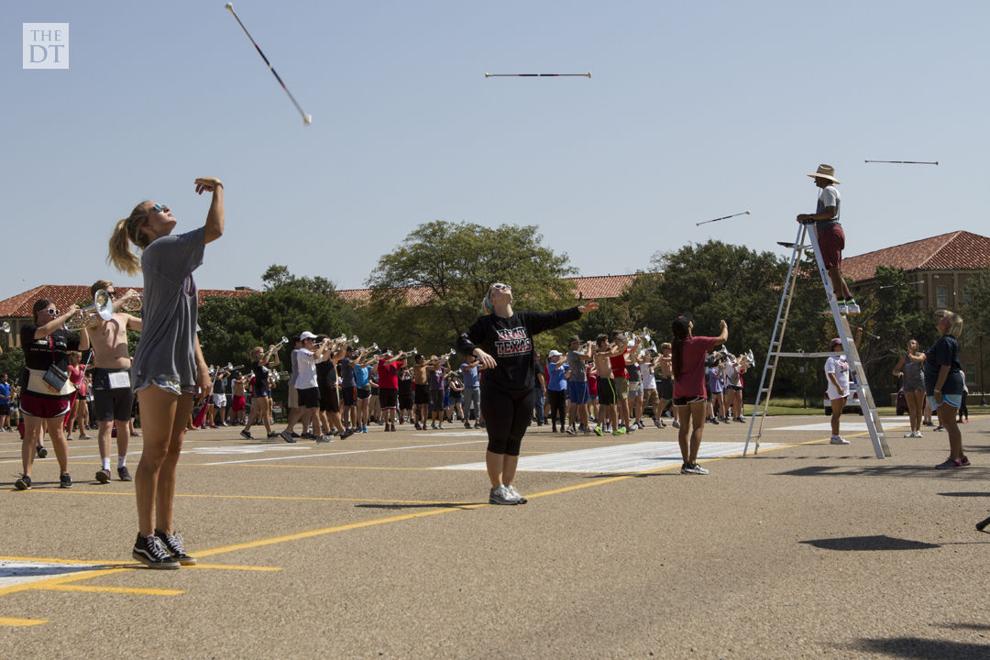 "In the ten years that I have coached at Tech, we have made it to nationals seven times and won two championships," she said. "It is held in South Bend, Indiana at Notre Dame. There are over 3,000 contestants that are either an individual or a part of a team."
The Tech twirling team made it to the National Baton Twirling Championships for the 2017 year, according to Texas Tech Today, the team placed third in the collegiate halftime twirl show competition. Each of the members earned multiple awards for solo and two-baton twirling, flag twirling and strutting.
With numerous awards, titles and years of experience under their belts, Padron said she expects to have a good season because of the individuals on the team.
"The group of girls that we have this year are very committed and are really wanting to be there and try their best," she said. "We are getting to try new exchanges and new routines because everyone is on the same page. Everyone is willing to put in the work, and I think it is going to pay off really well."