This year, Texas Tech Study Abroad Program hosted its annual fair on Sept. 7 at the Student Union Building Ballroom to have students gain international experiences such as seeing what the world is like.
Whitney Longnecker, the director of the program, said there are many benefits for a student participating in a study abroad program.
"It's an opportunity for students to gain academic credit while seeing the world," Longnecker said. "We also find that study abroad is an opportunity for students to really set themselves apart."
Longnecker said while students hear a lot about Texas Tech Study Abroad on campus, only about 1 in 10 college students will choose to study abroad as a college student.
"The ways that study abroad program benefits students are professional, personal and academic, Longnecker said. "When they're participating in a study abroad program, they are obtaining academic credit that they can use towards their degree here at Texas Tech. They also receive professional benefits because we do offer international internships that students can participate in."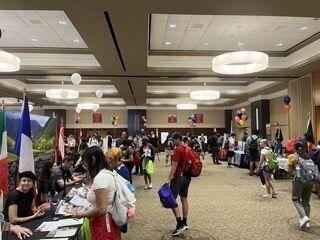 Study Abroad Program is currently accepting applications for the intersession and spring of 2023, which will be due on Oct. 3. They are also opening their application in the beginning of October and will open of Summer and Fall 2023, which will be due on Mar. 1, 2023.
Annalise Jabor, engineering diplomat for International Experience for Engineering Students, hosted a program at their table to promote engineering students for study abroad.
"Students in the engineering college are required to complete a study abroad program," Jabor said. "But I think the main purpose to study abroad is just to gain more cultural experience to live in a different place, experience a different culture, a different country and to understand a different way of life."
COVID-19 is of concern as it is still spreading around the world. Countries will have restrictions for students that are traveling to different countries and where the program is taking place, which Jabor said students should prepare for.
"I'd say it's definitely a good idea to be vaccinated before you go abroad because a lot of countries do require a vaccination in order to enter the country," Jabor said. "I'd say definitely check out those regulations based on where you're going. And you can look on the US Embassy website and you can see those COVID restrictions for US citizens on there."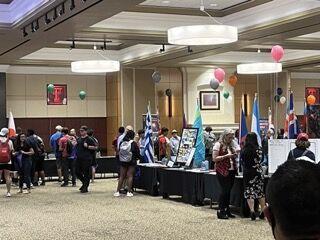 Ben Poole, a senior lecturer who teaches Food & History in Paris, said study abroad offers various opportunities for students.
"I think seeing the world and seeing the world from different perspectives is an important part of any education," Poole said.