On Sunday, the Indian Student Association hosted a Holi celebration at Urbanovsky park to ring in the spring season. According to the Society for the Confluence of Festivals in India, Holi is known as the festival of love and is a celebration of diversity to bring people together.  
"It's an Indian festival. It's about colors.It's called Festival of Colors," Saloni Majumdar, a fourth-year microbiology major from India, said. "We typically celebrate in spring so it's like the welcoming of spring. It's also a festival that celebrates equality because we believe that, you know, when we all are immersed in colors and stuff like that, we are all one."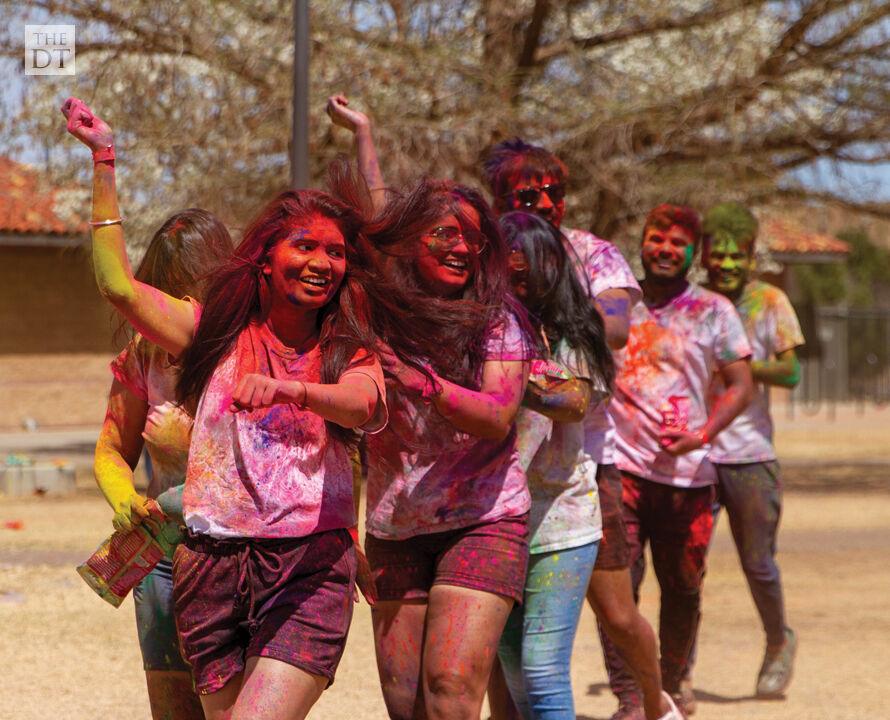 This is the largest scale of celebration that Texas Tech has had for Holi, Majumdar said, because it is the collaboration of both undergraduate and graduate students.  
Bhumika Jayee, vice president of the Indian Student Association, said she was happy with the turnout  and was proud to see students of all different backgrounds and studies coming together.  
"We have opened it up for all departments, no matter where you are from," Jayee, a doctoral student in computation chemistry, said. "You can just come in have fun. We do two major events in India that celebrated all across the country because it's a diverse nation. We have almost 200 languages in our country, so we play Holi where we just have a cultural get together. Anybody can join in and have fun."  
All the money raised at the event, about 1,200 dollars, Majumdar said, would be donated to non-profit organizations around the world and in India to give back to their country.   
They raised the money by selling tickets and giving out raffles. 
"Holi is celebrated all across India," Jayee said. "So, it doesn't really represent a particular region. It's celebrated all across and the significance is that we play with colors. So, colors are like an offset, kind of signifying that spring has started its colors are all around. Anybody can play with anyone because when you have colors on nobody can recognize you. So, it is like you're promoting diversity. People from all over the world are right now playing with each other, and it's just like a very friendly celebration." 
Mahitha Pammi, a graduate student from India, studying computer science, said although Tech is celebrating at a smaller level than they do it is like a piece of home she can celebrate miles and miles away.
Tech, Pammi said, has been one of the most welcoming places in the United States that has not only accepted the Indian culture and festivals but celebrated alongside the community with them.  
"Texas Tech welcomed us with all open arms because honestly, when we started tabling for the event, we were not expecting a lot of non-Asian people to join in," Jayee said. "They were so enthusiastic about learning about Holi, and a lot of people already knew about Holi because it's apparently celebrated in a lot of universities all across campuses. So, people coming, like the transfer students and everyone else, would already know about Holi so they were very excited to be a part of it, so I think itwas very, very much welcoming for us."  
Later this month, Majumdar said, the Indian Student Association will take part in events with RISE and other Tech student organizations to host sexual assault discussions for sexual assault awareness.  
The Indian Student Association also has more events in the coming months to celebrate other festivals and holidays.
"It is just, it's so diverse that you can play around with everyone," Jayee said. "So, I think the only thing you can take is you can have a brotherhood among everyone. You're together and it doesn't matter from where you're coming. It's just coming here and mixing up with everyone. It's everyone applying colors to each other."