Tom Walters has been driving for Texas Tech Athletics since 2011. Walters has specifically been driving the men's basketball team for the past five years. 
Walters said when he is with the team he does not feel like he is working. He feels he is "part of the team." 
"When they get in and out of the bus, they bump my fist or give me a hug," Walters said. "Bryson Williams, he's, of course, one of the big guys, and he's always giving me a hug and telling me he appreciates me, and all these guys make me feel like part of them."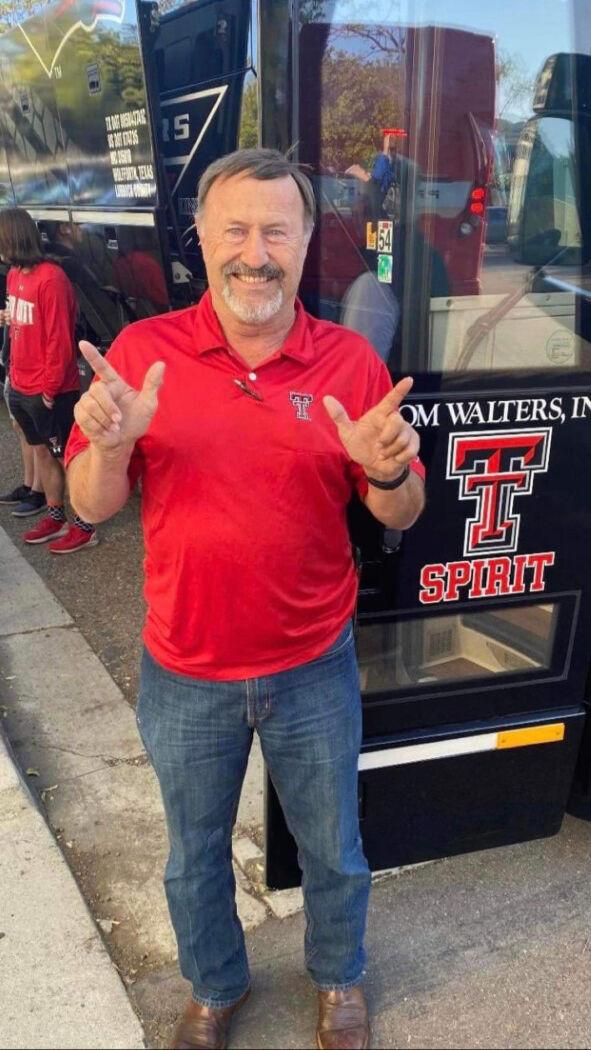 The team makes sure Walters knows they appreciate what he does for them. Walters said the team's attitude toward him never changes. Even if they lose a game, the team is thanking him for always being there to drive them day and night.
The players are not the only ones who show their gratitude for Walters. Walters said the coaches make it a point to thank him after every trip.  
"I've known (head coach) Mark Adams quite a long time. He always, after every game, doesn't matter if they win or lose, he always walks up to me, shakes my hand, gives me a little man hug and tells me 'thank you.' (Adams) always says "Thanks, Tom, I appreciate what you do and keeping us safe," Walters said. "Corey (Williams), one of the other coaches, same thing, he's always hugging me. He is like a ray of sunshine and all of the coaches are friendly and I just don't feel like I'm working. I feel like I'm with them, supporting them and being with them and part of the family." 
Walters said he likes to get to know the players off the court. He bonds with the players and pays attention to the things that they like.
At the front of the bus, Walters has two containers he fills with candy for the players. Walters changes out between Hershey bars, York Peppermint Patties and Starburst. 
"I noticed here lately they've been really liking those Starbursts," Walters said. "I saw them keep picking through it and they were getting the pink ones. I asked a couple of them and they said 'Yeah, the pink ones are the best!'" 
Walters devotes a lot of his time to be there for the team when they need him. Walters says he can legally drive 10 hours at a given time so for the team's San Diego game, Walters had to leave a day before the team.  
For the team's game in San Diego, Walters left Lubbock and drove to Tucson, Arizona, which is exactly 10 hours. The next day Walters drove to San Diego to meet the team at the airport. 
"I always try to get there a couple of hours before they do, just in case I have any issues and then when they come in, they just get off and get on the bus and then we start our day with them," Walters said. 
After the team's win on Sunday, Walters drove the team to the San Diego airport. After dropping the team off, Walters spent the night in San Diego.
On Monday Walters drove from San Diego to San Francisco to prepare for the team's arrival Tuesday afternoon.
"I got here last night, and then they're flying in this afternoon. So we'll start our episode this afternoon with them, their first game is Thursday and if they win, I'll be here all week with them," Walters said.
Walters said he is flexible with the team's schedule and always ready to adapt to any changes that the team needs.  
"Sometimes as soon as they fly in, we go straight to practice, sometimes we'll go to the hotel check-in first and sometimes they're hungry, just want to go eat first. I just roll with the flow," Walters said. "We have an itinerary and we don't always follow it. Sometimes coach Adams just wants to all of a sudden go do something else and so I'm flexible. And that's one of the reasons they like me. I don't throw a cow over the itinerary. If they decide they want to do something different, I'm all for it. Let's get it done." 
Walters has been transporting Tech athletes for over a decade and said his past five years transporting the men's basketball team has been an exciting journey.
Walters picked up the team Tuesday afternoon at the San Francisco airport. The team will play Duke at 8:39 p.m. today at the Chase Center Arena in San Francisco.