As the ongoing COVID-19 pandemic strains supplies of medical equipment nationwide, researchers from Texas Tech and the Texas Tech University Health Sciences Center have come together to aide front line medical staff, developing 3-D printed face shields, aerosol chambers, emergency ventilators and more.
"This whole situation has just heightened the importance of collaborations between our two campuses," Joseph Heppert, vice president for research & innovation at Tech, said. "And it's really brought the opportunity to start working together in a whole variety of areas right to the forefront."
Personnel from multiple departments on both campuses, in addition to colleagues from Odessa College, University of Texas in Permian Basin, the Lubbock community and more are partnering to develop innovative methods of producing personal protective equipment and address other shortages.
Helping to coordinating this group, the West Texas COVID-19 Relief Consortium, is Simon Williams, TTUHSC Dean for Academic Affairs.
"I mean literally we had our first meeting two Sundays ago, and we've already got probably over 100 people involved between Lubbock and Permian Basin," Williams said. "And we're growing every minute, and we just get new ideas."
Williams himself initially became involved when he personally started to think about what could be done to provide healthcare workers with PPE that seemed to be missing, he said. As Williams had previously worked with Al Sacco Jr., dean of the Tech College of Engineering, he reached out.
From there, a group of collaborators began to form and the first project that came up was making face shields to be worn over PPE, prolonging the life of PPE such as N95 masks that are in short supply, Williams said. John Carrell, an assistant professor of engineering in the Tech Honors College, was heavily involved in this project from its beginning stages.
Personnel in the College of Engineering distributed files for 3-D printer use, and 3-D printers on the Tech campus, either in the College of Engineering or in the Tech Library Makerspace, were utilized and the printed frames were collected. The clear plastic going over the frames was laser cut and assembled with the frame.
"We have groups of volunteers who assemble them, put on these elastic bands," Williams said. "We got donations from companies like Under Armor already who offered to provide some of those elastic headbands that will keep (the face shields) on people's heads."
Materials for the elastic bands and headbands were provided by the Tech School of Theatre & Dance and Tech Athletics, respectively, according to the Consortium website.
Already 400 face shields have been printed and as of April 2, 177 face shields have been delivered to UMC, Covenant and healthcare facilities in Monahans, Pecos and more, according to the Consortium website. Still, Williams said they are looking to find ways to increase the rate of production as need is high.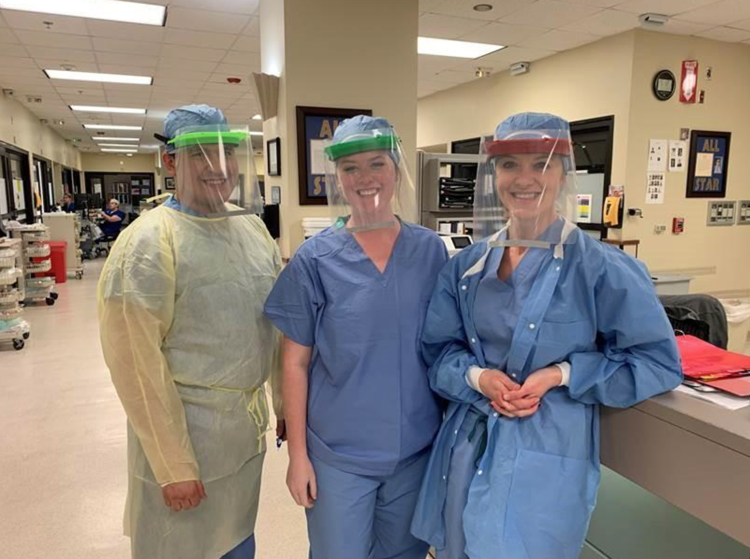 "Just to give you an idea of the need, we've actually been trying to estimate, you know, how many of these do we actually need. We've made 400," he said. "I got reached out to from Covenant hospital and they asked could we could provide them with a 1000 face shields."
In addition to the effort to produce face shields, another project Williams said he believes will have a significant impact are the efforts to produce aerosol chambers, also called aerosol hoods. According to the Consortium website, Carrell is also leading this project.
The aerosol hoods are essentially large, square plexiglass boxes that have two holes with plastic covers for healthcare workers' arms, Williams said. The box is built to be placed on the patient's head, providing protection for the physician or nurse administering care.
The current goal is to produce 100 aerosol hoods, he said. Prototypes have been tested at the UMC, and they are pretty much ready for production. Once the plexiglass arrives on Monday, the hoods can be produced and distributed to hospitals.
"We think this is going to be an incredibly, highly effective protection for our physicians, and I can tell that the ones who we've shown it to are desperate to get their hands on those items," Williams said.
Besides working to supplement supplies of PPE, there are also efforts to address the national shortage of ventilators, which can be necessary to treat COVID-19 patients. This issue is particularly significant for the rural regions around Lubbock, Williams said, as these hospitals may only have a couple of ventilators, or even just one.
Aa result, a group of engineers including Roy Mullins, an engineer with the Tech Department of Mechanical Engineering, and Joeseph Dannemiller, an Instructor within the Department of Civil, Environmental and Construction Engineering, are working to produce emergency ventilators based on a model from MIT. Prototypes should be read to test by the end of this week, William said.
Essentially, they are producing smaller, simpler ventilator models that use ambu bags, he said. Ambu bags are rubber bags that when manually squeezed, push air into the lungs of patients.
"They've produced a version of it that is automated," he said. "So basically it can be used in an emergency situation to keep a patient alive and particularly if this occurs in an emergency situation in say a small rural hospital, that would give time for that patient to be transported to another hospital that might have greater capacity."
Other ongoing research initiatives include re-sterilization of PPE, developing methods to use ventilators to support more than one patient, and even efforts to find treatments, Williams said.
"There's a lot of work going on on what's called convalescent serum," he said. "So this is the antibodies that are in the blood of patients who have recovered from COVID-19 but have the potential to be used therapeutically in other people who are suffering from the disease."
In addition to the various initiatives from the West Texas COVID-19 Relief Consortium, another strong collaboration that has emerged due to the COVID-19 pandemic is at the Tech BSL-3 lab in the Reese Center.
The BSL-3 lab is doing diagnostic patient testing for COVID-19 in 67 counties, TTUHSC Interim President Lori Rice-Spearman said in a livestream last week.
The staff at the lab were primarily focused on research prior to COVID-19 but are now doing clinical testing, Heppert said. They have gone from testing 8 samples a day to over 50 samples a day, and the expectation is that will continue to increase over the coming weeks.
"We have a very strong collaboration now, in terms of training and qualifying individuals from both campuses to help with testing," Heppert said.
Additionally, a team that included Tech Information Technology services and Wade Redman, TTUHSC associate dean for educational technology, was able to set up a information system for the labaratory in less than week, when usually it can take up to four to six months, Rice-Spearman said. With all of the counties being served, the lab needed to be able to process specimens efficiently and get that information back out to facilities.
"(We) developed this strong partnership between TTU and TTUHSC that allowed us to bring that laboratory quickly up to capacity for testing," Rice-Spearman said.
Even beyond the pandemic, Heppert said he would love to see these collaborations sustained to help expand Tech's research and impact on the national level.
The partnerships being formed now have the potential to lead to great things, Williams said. He himself has come to know many more people because of the work being done and many contacts and connections have been made between both campuses and other institutions as well. When the Tech community comes out of this, it will do so with much stronger relationships, he said.
"This is obviously a terrible situation, but you know, when you put smart people together to solve problems, they suddenly realize they'd like to keep working together," Williams said.