The No. 8 Texas Tech baseball team defeated Army, 11-2, in the first game of the 2019 Lubbock Regional at Dan Law Field at Rip Griffin Park on Friday.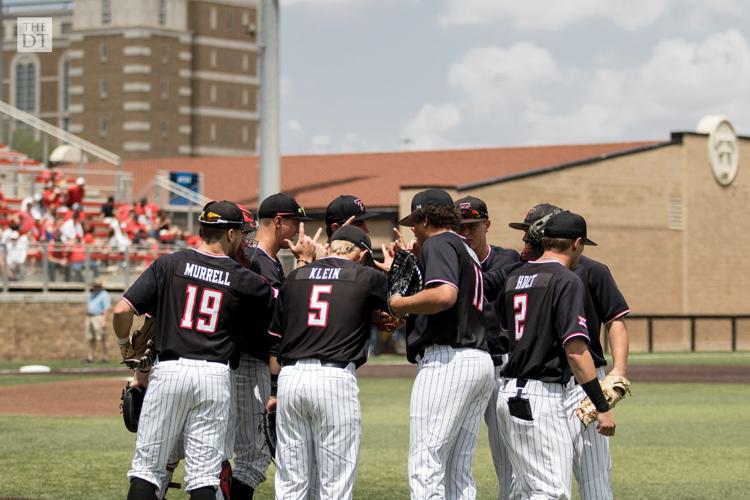 With the win, Tech earned its 40th win of the year as the team now has a 40-17 overall record. The Red Raiders also improved their record at home to 26-6 on the year, as well as giving them a perfect 1-0 start in the postseason. The win also marked head coach Tim Tadlock's 20th win in the NCAA Tournament at Tech, improving his overall record with the Red Raiders, 279-149.
"Congratulations to Army," head coach Tim Tadlock said. "You got to really like what their kids stand for and what they do each day for all of us. I can't help but walk away from there and just really like their team."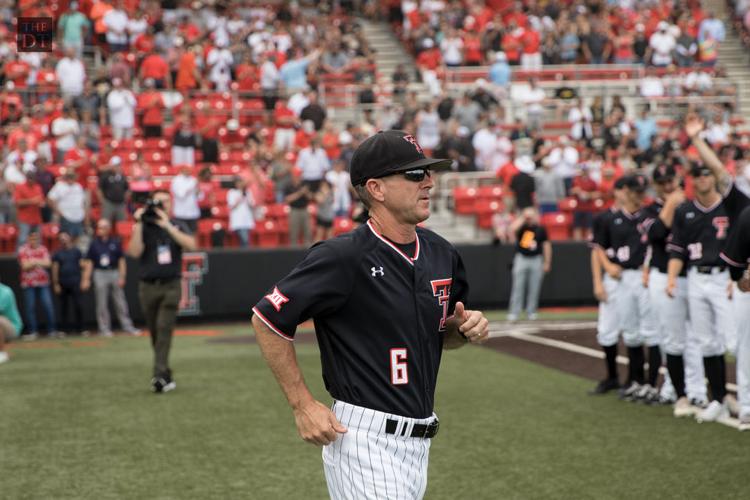 Tech started its first game of the postseason strong as starting RHP freshman Micah Dallas retired three-straight batters. Sophomore Gabe Holt then opened the game with a triple down the left-field line and was sent home off of a sac fly by freshman Tanner O'Tremba, giving Tech an early 1-0 lead.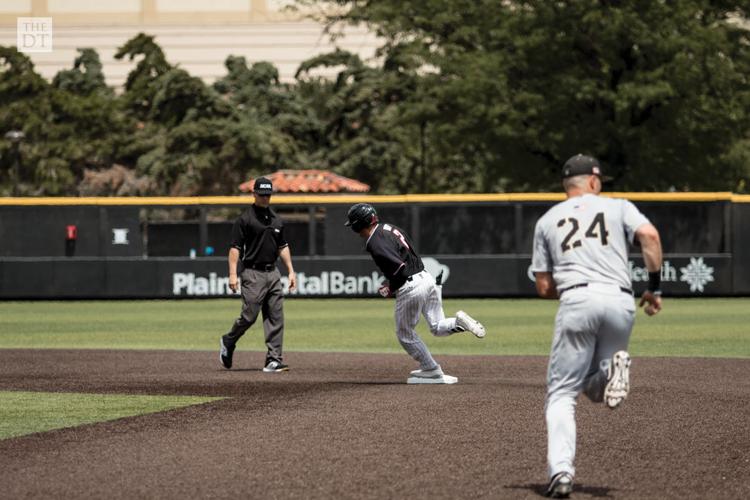 "It's definitely different going into (a postseason game)," Dallas said. "I was probably a little more nervous prior the game, but when it got time to start stretching and get locked in, it was just felt like another game."
The Big 12 Co-Player of the Year, junior Josh Jung, followed with a hit through the left side for a single with two outs in the first inning. Senior Cameron Warren then moved Jung to third as he singled and advanced to second off of the throw to third. The Red Raiders earned their third-straight two-out hit as sophomore Cody Masters sent both Jung and Warren home with a hit to center field, giving the Red Raiders a 3-0 lead in the first inning.
"(Masters' hit) was huge," Warren said. "Cody said he didn't barrel the ball or have any hits today. I said, you had one of the biggest hits of the day, giving us the 3-0 lead, it was huge. It was one of the biggest hits of the day."
Dallas continued his performance at the mound in the second inning, retiring his sixth-straight batter to end the top of the inning. The Red Raider continued with the hot bats in the bottom of the second inning as Holt doubled to left field and advanced to third with a single to left field by O'Tremba. Tech grew their lead, 5-0, with a two-RBI double to left center by junior Brian Klein, which sent both Holt and O'Tremba home.
The Red Raiders added another run on the scoreboard to give them a 6-0 lead in the third inning after Dallas retired his ninth-consecutive batter at the mound. Sophomore Kurt Wilson scored the run after being walked, moved to second with a hit through the right side by sophomore Easton Murrell and being sent home by sophomore Braxton Fulford with another hit through the right side.
After retiring 12-consecutive batters, Dallas hit a batter with a pitch and walked a batter in the fifth inning to put the first two Black Knights on base. The Red Raider defense kept Army scoreless despite the runners on base as Dallas struck two batters out and Murrell jumped to catch a hard line drive at third. Army remained with no hits after the fifth inning.
"Our offense was incredible today," Dallas said. "They gave me the confidence out there, knowing I didn't have to be perfect every pitch and the defense, Easton (Murrell) at third base made some incredible plays that for sure saved whatever I thought I had going."
In the bottom of the fifth inning, the Red Raiders loaded the bases as Murrell was hit by a pitch, Fulford earned a single and Holt was walked. O'Tremba then grew Tech's lead, 8-0, with a two-RBI double down the left-field line, sending Murrell and Fulford home.
"I talked to (O'Tremba) before the game and he hasn't had a lot of at-bats lately," Warren said. "I told him to go up there and have good at-bats. He went 3-4 today and had some good at-bats today."
Army earned its first hit of the day off of Dallas with a hit up the middle by Jacob Hurtubise. Andre Walden then reached first off of a fielder's choice error by Jung, putting runners on first and second. Trey Martin then fired a hit to the left-field wall, sending Hurtubise home for Army's first run of the game, cutting Tech's lead, 8-1.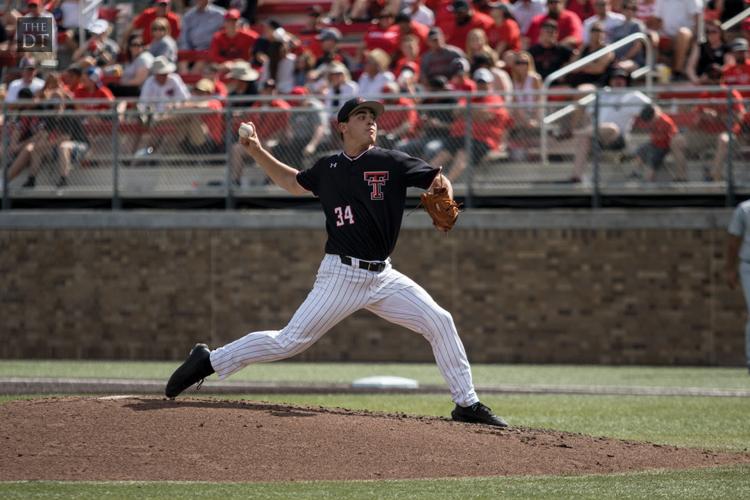 "I think (knowing I had a no-hitter going into the sixth inning) is a problem, I think I need to get more mentally strong in that standpoint," Dallas said. "I was thinking about it a little bit, so moving on, hopefully I can just push that away and just go attack each batter."
Two Red Raiders landed a spot on base with Warren up at the plate as O'Tremba was walked and Jung singled with an infield hit. Warren then sent one out of the park over the left-field wall for a three-run homer, giving Tech a dominant 11-1 lead in the seventh inning. The homer was Warren's first of the postseason and 15th of the season, ranking him second in the Big 12.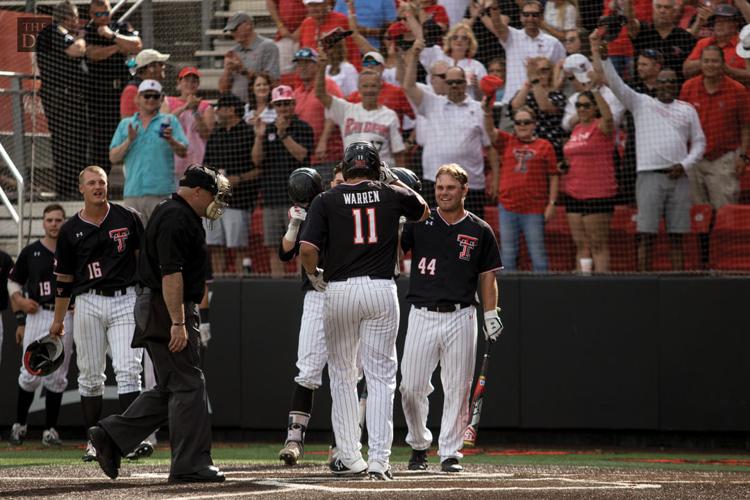 "(The pitch on the home run) was just a fastball over the middle," Warren said. "Tad gave me green light, so I was like hopefully I get a barrel on this one."
With a 10-run lead, sophomore RHP Ryan Sublette relieved Dallas, staring the eighth inning at the mound. In Dallas' first appearance in an NCAA postseason game, he threw 99 pitches in 7.0 innings at the mound, striking seven batters out while giving up three hits, one walk and one run.
"I feel like my fastball command, I had it most of the time," Dallas said regarding what pitches were working well for him. "My slider, I couldn't really lean on that as much as I normally do, but I think that my fastball had good life on it, so i think that's why."
Sublette prevented the Black Knights from scoring a run in the eighth inning but junior RHP Caleb Freeman gave up one run in the ninth, but with a nine-run lead still in hand, the Red Raiders' won, 11-2.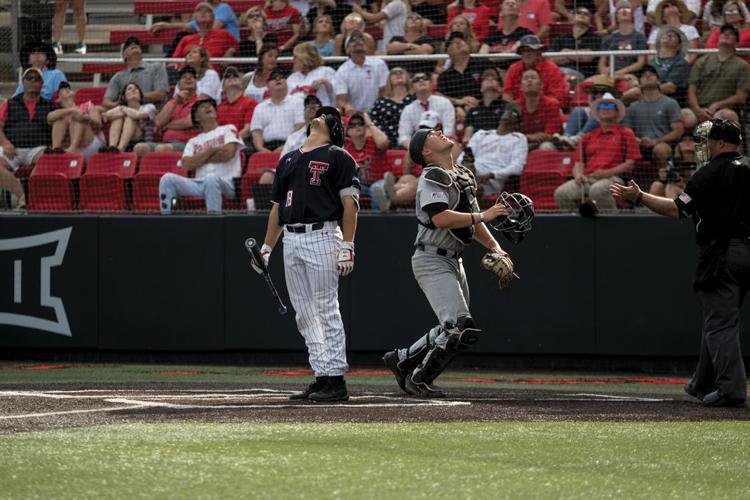 "You'll take (the win) any way you can get it," Tadlock said. "You want (the players) to keep their feet on the ground and understand it's just game one and we're on a path for as many more we can get and guys know what that is. Take it one day at a time and be ready to go."
The Red Raiders advanced to the winner's bracket of the Lubbock Regional, where they will play the winner of Florida and Dallas Baptist at 6 p.m. on Saturday. The game will be aired on ESPN3 for fans who cannot attend the game at Dan Law Field.