At this year's NFL Combine, which took place from March 2-5 at Lucas Oil Stadium in Indianapolis, Texas Tech receivers Keke Coutee and Dylan Cantrell came away with the biggest results.
Overall, the Red Raiders finished with a total of five medals comprised of three gold, one silver and one bronze medals — finishing alongside Florida State and Auburn. The Red Raiders were one medal away from tying with North Carolina State, Oklahoma and UCLA.
However, it was still an impressive performance from Tech. Players who finish top-three in an event earn a medal for their school, which is tallied and compared against other schools at the end of the combine.
Coutee was probably the most keenly watched of the Red Raiders as he has the highest chance of being drafted in the first three rounds, and he solidified that with his NFL Combine results. However, it was Cantrell who walked away with better results.
First, Coutee tied for fifth among the receivers for the fastest 40-yard dash time with a time of 4.43. He tied with Pittsburgh receiver Jester Weah and was a millisecond from tying with Maryland receiver D.J. Moore. Cantrell did not do well in this event as he finished with a time of 4.59, among the lowest in the wide receiver group.
In the bench press, Coutee finished closer to the middle with 14 reps, tying Oklahoma State receiver James Washington, but had less reps than his former teammate, Cantrell, who had 18.
Cantrell also beat Coutee in the vertical jump while also finishing in the top three in the wide receiver group for the workout. Cantrell finished the vertical jump with a height of 38.5 inches on his jump, one inch below Moore, and two inches below LSU receiver D.J. Chark.
For Coutee, he finished with a 34.5 vertical jump and tied with the likes of Washington, Clemson receiver Ray-Ray McCloud, Penn State receiver Daesean Hamilton and East Carolina receiver Davon Grayson.
Cantrell also led in the broad jump with a distance of 130 inches, tying second longest with Central Florida receiver Tre'Quan Smith in the receivers group. Coutee did not do well in the broad jump as he finished with 113 inches, among the lowest in the position.
In the three-cone drill, Cantrell finished tied for first among the receivers with a time of 6.56. He tied with Missouri receiver J'Mon Moore. Coutee finished with a time of 6.93 which is an average time for the three-cone drill and close to the middle among the wide receivers.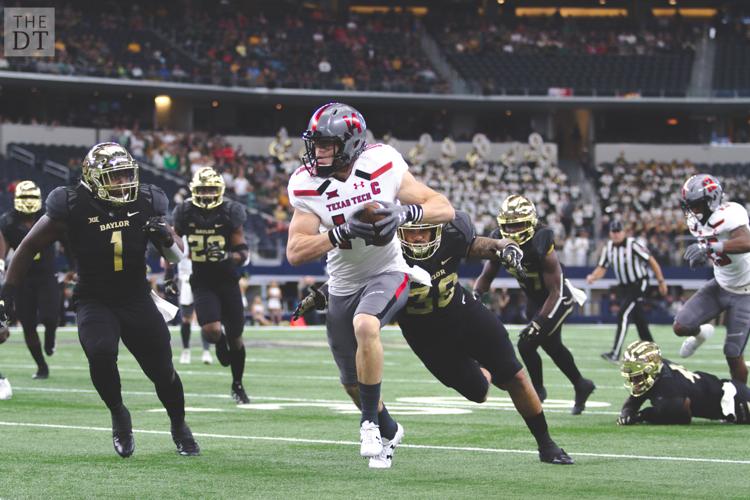 Where both receivers dominated was in the 20-yard shuttle, as Cantrell finished first among the wide receivers with a time of 4.03, and Coutee wasn't far behind with a time of 4.15. Cantrell also dominated in the 60-yard shuttle with him finishing in first with a time of 10.85.
Although Coutee has the 2017 season stats to back him as an early round pick, if the NFL scouts were to go based on the NFL Combine, Cantrell would be a higher choice, but both receivers are most likely closer to each other than most believe and will likely not be picked far apart from each other. It's most likely Coutee will be picked first to a team that needs a second wide receiver, and Cantrell will be picked slightly later to a team that needs to build depth by getting a third or fourth receiver. Coutee will likely be selected in the second or third round, and for Cantrell it's possible he's picked in the third, fourth or fifth round.
In the quarterback position, Tech quarterback Nic Shimonek finished with a 40-yard dash time of 4.88, about four milliseconds behind Oklahoma quarterback Baker Mayfield. Among the quarterbacks, Shimonek's time was about the middle of the road.
Shimonek did not do well in the vertical jump, with a height of 28.5 — among the lowest, but quarterbacks don't need to jump often so this shouldn't affect Shimonek's draft-ability in any way and this also goes with the broad jump.
Shimonek also struggled in the three-cone drill, finishing with a time of 7.28. However, Shimonek did amazing in the 20-yard shuttle and was listed as a top performer in the event by NFL.com. Shimonek finished the 20-yard shuttle with a time of 4.32, finishing above Wyoming quarterback Josh Allen and USC quarterback Sam Darnold, and was a few milliseconds behind Mayfield.
For Shimonek, the combine did not truly work in his favor and it is likely he will be drafted, at best, in the sixth or seventh round or he will be an undrafted free agent that'll be signed to a team that wishes to add depth to the quarterback spot. Although his 20-yard shuttle time was fantastic, the other events weigh him down.