Earning a degree is just one of the milestones that will be celebrated differently at Texas Tech as the nation continues to face the COVID-19 pandemic.
In addition to celebrating a completed education, some graduating Tech students also are celebrating being a first-generation student, a military veteran, a McNair Scholar and more. But due to cancellations resulting from the COVID-19 outbreak, programs across Tech are looking to still recognize these students' achievements.
There are a variety of ways these programs are honoring students despite closures on campus. Adjustments to different graduation celebrations and other convocations include the following:
Tech Spring 2020 Commencement
Amiee Dixon, Tech commencement coordinator for main-campus commence ceremonies, said spring commencement ceremonies will be hosted virtually at 9 a.m. on May 23.
Those wanting to view the ceremonies can access the link on the Tech Commencement website. One can watch the ceremonies even after the time of the event.
The virtual ceremonies will consist of 13 live videos, Dixon said.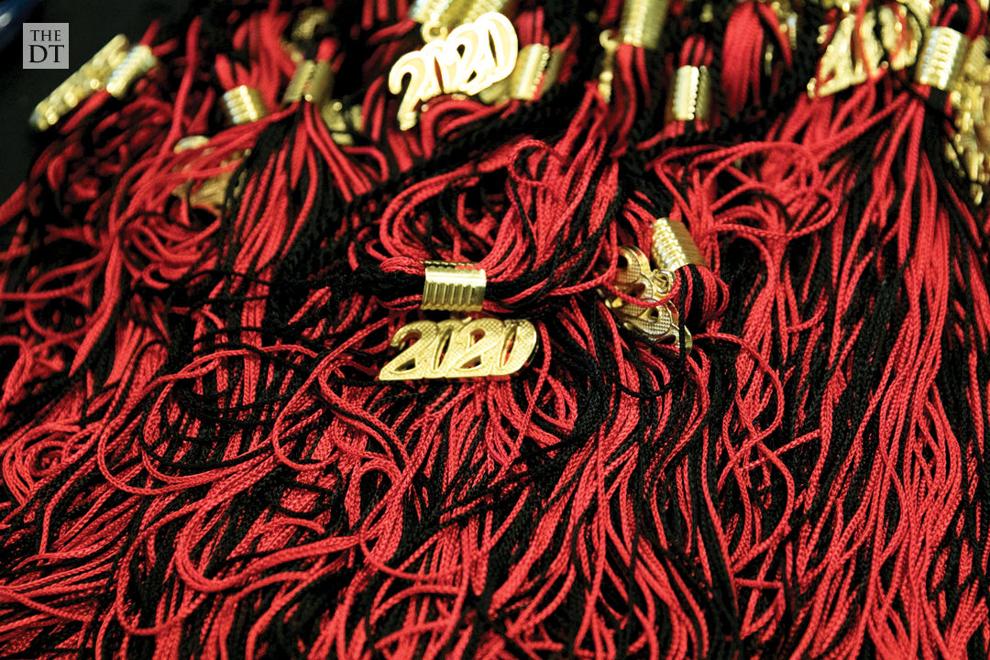 "We will have our main campus video, which is our university-wide one," she said. "So, it will include all the normal speeches that are typically seen at our in-person ceremonies, it will include all of our deans and all of our graduate and undergraduates in that ceremony, and we will the end the ceremony, as we always do, with the president's charge and the Matador Song."
The other 12 videos will be for specific college ceremonies, Dixon said. These videos will include the same welcoming remarks but will differ, as they each will include messages from their respective deans, faculty and staff. Undergraduate and graduate students only will attend their college's virtual ceremony.
Moving tassels to the left, turning one's Tech class ring outward and the Matador Song all are moments during a Tech commencement ceremony Dixon said will be highlighted during this spring's virtual event.
"We did reach out to the graduates who RSVP'd to the virtual ceremony asking them to send special photos of them, either showing off their class ring or wear their full regalia with their tassels showing," she said. "So, whenever that moment does happen in the ceremony, we will cut to those photos to make it a little more personal for the graduates."
Photos of graduates' proudest moments will be displayed during the singing of the Matador Song at the end of the ceremony, Dixon said.
"The traditions of our commencement ceremonies are really special to our faculty, our staff, our alumni and, especially, our graduating students and their families and friends," she said. "We worked really hard to retain as much of our Red Raider traditions as possible, and we hope that our grads know that they are a part of a first for Texas Tech, and we really tried to make this virtual commencement as special as it may go."
Division of Diversity, Equity and Inclusion
Jade Silva Tovar, senior director of the Tech Division of Diversity Equity and Inclusion, said within the DDEI, staff works together to recognize students across all programs and those working within the division.
"This year, knowing that we wouldn't be able to do that, and students wouldn't be here, we decided to do was to work with all of our programs and units that host the graduation celebration," she said. "As we were brainstorming, one of the things that we really wanted students to know was that we know that these are not normal times, that there is a sense of loss by not having graduation and commencement and convocation celebrations on campus."
To honor the students within the division, Silva Tovar said students will receive a letter from her, Carol Sumner, Tech chief diversity officer and vice president of DDEI, and Ashley Gonzales, senior director of the Tech Office of Institutional Diversity. The students also will get a customized challenge coin that typically is given to faculty that go through the faculty diversity training, so this will be the first time students will receive the coin.
In addition, Silva Tovar said a video consisting of congratulatory remarks from her, Sumner and Gonzales will be posted on the DDEI website.
When the division received communication from the university about large-scale events being cancelled and the remainder of the semester being moved online, Silva Tovar said they wanted a way to celebrate the students safely and make sure everyone could participate.
Military and Veterans Programs
Bernice Flett, assistant director of Tech Military and Veterans Programs, said the program typically would give a graduation stole and host a recognition ceremony a few days before commencement for graduating military-affiliated students and students who are related to a veteran or someone in the military.
"Each veteran graduate receives a specially-designed, camo-tipped stole to recognize them as a veteran or service member, and they get to walk across the stage, and their families are included at the end with photos," she said regarding past events.
The MVP graduation stole and recognition ceremony for May had to be cancelled, Flett said. The camo-tipped stoles and a certificate of recognition will be mailed to students.
"We're encouraging them to send in a photo to our office at mvp@ttu.edu, so we can include it in a May 2020 graduation slideshow," she said.
TRIO Student Support Services
Chelsea Adams, academic adviser at Tech TRIO Student Support Services, said the staff is mailing graduating students within the program a congratulatory certificate.
"We also have a few different awards that we give to students within TRIO SSS annually," she said.
These awards include Most Involved in SSS, Outstanding Leadership and Emerging Leader, Adams said. These awards are given around the same time as graduation.
Students in the program also will be sent medallions that are typically worn during graduation and will be spotlighted on the TRIO SSS website, Adams said. A congratulatory video consisting of members of the program also will be on the website.
Marcus Graham, director of TRIO SSS, said the program serves first-generation and low-income students.
"Even though the university is doing virtual graduation exercises, this additional recognition is very important for this particular student population because many of them are the first in their family to graduate with a bachelor's degree," he said.
It is sad students will not be able to walk across the stage at graduation this semester, Graham said. Because of this, the program still wanted to recognize the students.
First Generation Transition and Mentoring Programs and Mentor Tech
Brandon Cruz, director for Tech First Generation Transition and Mentoring Programs (FGTMP), said typically the program would recognize students in-person. With COVID-19, different adjustments had to be made for this year.
"We're definitely tapping into our digital footprint as well as other options," he said. "We really want to recognize and celebrate our first-generation students. When we refer to first-gen students, it's the first generation in college, so for these students, a lot of them have been looking forward to and fantasizing about graduation for so long, and so what we want to is we're actually sending them a first-gen graduation care package."
As part of the package, Cruz said students will get graduation cords and a copy Dr. Seuss' book, "Oh, the Places You'll Go!"
"In addition to that, we're also spotlighting our graduating seniors on our website as well as on social media," he said. "We're sharing their photos and really just showing how much we appreciate and value their accomplishment."
For Mentor Tech, Cruz said the program is honoring graduating participants, or protégés. These participants are connected with a mentor while in the program.
"For a lot of these individuals, they've been a part of the program for several semesters, and for some of them, several years," he said. "So, there's a lot of an emotional connection and an emotional tie to this program. What we're doing with them is essentially prepping them and empowering them with a professional care package that sets them up for success outside of being in the college space."
In addition, Cruz said protégés will be given a certificate to honor the students in the program.
"I would say that the significance is taking that pause during a season of extreme uniqueness and really going to the spirit of the time, which is celebrating our graduating students," he said. "It's so important that we take that pause and let our students know that we're so proud of them, and that we value and appreciate them."
Hispanic Convocation
Jada Cantu, FGTMP program assistant, said the Raiders Rojos alumni group typically hosts the Hispanic Convocation. Due to the spread of COVID-19, the event was cancelled.
During the convocation, students would be recognized and get a cultural stole, Cantu said. Unfortunately, students will not be receiving a stole, as local high school students make the stoles.
Although, Cantu said students will have the chance to receive a lapel pin that has a design similar to the stole. It also incorporates the Double T and has the phrase "From here, it's possible" translated into Spanish.
"I've been working with [Silva Tovar] and the Division of Diversity, Equity and Inclusion, and so, what we're doing now is we're hosting the virtual Hispanic, Latino, Latina, Latinx Convocation," she said, "and so, this is where we're going to be recognizing and celebrating the achievements of our Hispanic, Latino, Latinx community who are pursuing a higher education."
The virtual event, which will be open to all Tech and Tech Health Sciences Center students, will consist of a form being sent out to prospective participants, Cantu said. She is hoping students can sign up and get the chance to view a directory of student names and graduation information for each student.
"We're doing also 'mil gracias,' which directly translates to 'a thousand thank yous,'" she said. "This where graduates can thank a mentor, a loved one, family, friends on achieving this momentous celebration."
With Tech being a Hispanic-serving institution, Cantu said it is important to recognize this population.
McNair Scholars Program
Jon Crider, director of the Tech McNair Scholars Program, said the staff would have hosted a senior recognition ceremony at the beginning of May for students in the program and their faculty mentor.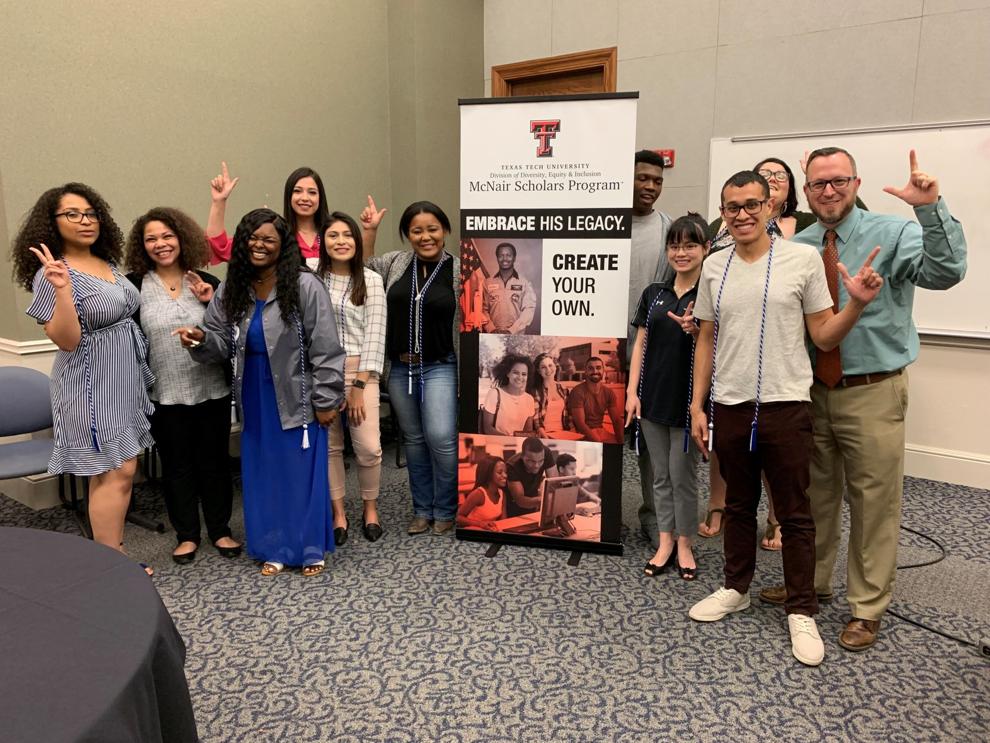 "We basically do a presentation of their research, the things that they've done and have each of the scholars come up and announce what graduate school they're going to, what their plans were after graduation," he said. "Then, we recognize each of the scholars with an honor cord."
In addition, Crider said students will get a lapel pin and present a slideshow of students' time at the program.
This year's event was supposed to be the program's second graduation celebration, as the McNair Scholars Program has only been at Tech for three years, Crider said.
Due to not being able to host the in-person event, Crider said the cord, the lapel pin and a picture book called "Ron's Big Mission," which is a story about the childhood of Ron McNair, an astronaut killed in the Challenger Space Shuttle explosion on Jan. 28, 1986 and the namesake od the McNair Scholars Program, will be sent to graduating students in the program.
"We highlighted all of our graduating seniors in our newsletter," he said regarding another effort to honor graduating students amid the pandemic. "Then, we're also going to take that same highlight and post it on social media over the next two weeks."
Black Convocation
La'Ryon Witherspoon, Black Convocation chair and counselor education doctoral student, said the event is dedicated to honoring the achievements of African American students on campus.
The event typically consists of students receiving a Kente graduation stole, Witherspoon said. The red, green, black and gold colors of the stole have a significant meaning for African culture.
"We are, most definitely, highlighting students on our social media pages: Instagram, Twitter, Facebook," he said regarding changes to the celebration due to COVID-19. "But we're also mailing the students their graduation stoles."
Regardless of the updates, Witherspoon said recognizing the accomplishments of African American students is important.
"It's something that's truly, truly important that we highlight not jut our accomplishments but who we are as people," he said.
Lavender Graduation
Stephen Chao, administrator at the Tech Office of LGBTQIA Education and Engagement, said the annual Lavender Graduation is a celebration dedicated to recognizing LGBTQIA graduates.
"Especially at Texas Tech, in a lot of places, we recognize that some LGBTQIA students may not be able to celebrate their full selves or their full identities in other graduation ceremonies if they're not out to their families, if they don't feel comfortable being their full selves at celebrations," he said.
A Lavender Graduation is an opportunity to celebrate with other members of the LGBTQIA community, Chao said.
"This year, of course, due to COVID-19, we're not able to have an in-person ceremony like we usually do," he said. "Usually, we have a dinner and recognition ceremony."
During a Lavender Graduation, Chao said students would typically get a certificate, Lavender honor cords and congratulations from Sumner, Jody Randall, director of the Office of LGBTQIA Education and Engagement, and Catherine Duran, vice provost for Tech Student Affairs. The materials students would typically get at the event will be mailed to them.
"We're compiling a Lavender yearbook," he said regarding other efforts. "This is just a small little booklet that we're going to publish through our social media and our newsletter as well as send an electronic and physical copy to those who express interests."
Pages will be dedicated to graduates interested in participating, Chao said. Each page will consist of information about the student and their reflections of being at Tech.
In addition, Chao said videos that will include congratulatory statements from staff in the Office of LGBTQIA Education and Engagement and other members of the Tech community will be released May 13, 14 and 15.