As Texas Tech Homecoming Week approached its climax, students, alumni, and faculty of the university gathered at the Student Union Building amphitheater on Friday afternoon to witness the announcing of the 2019 Homecoming Court at the Rowdy Raider Rally. 
The event featured an opening performance by the Texas Tech Goin' Band from Raiderland drum line and performances by the Tech Spirit Squad. 
Sabrina Gonzalez, the royalty chair for Texas Tech's 2019 Homecoming, announced the final candidates for this year's Tech Homecoming court. The five king candidates were announced first followed by queen candidates: 
Sequoyah Perry of Pi Kappa Alpha 
Garett Turner of Beta Upsilon Chi 
Hunter LoCascio of Mortar Board 
Reginald Lane of Saddle Tramps 
John Smithwick of President's Select 
Alexandra Todd of Alpha Delta Pi 
Tina Zhu of Kappa Kappa Gamma 
Lauren McKenzie of Delta Gamma 
Hunter Heck of Mortar board 
Ashton Colquett of President's Select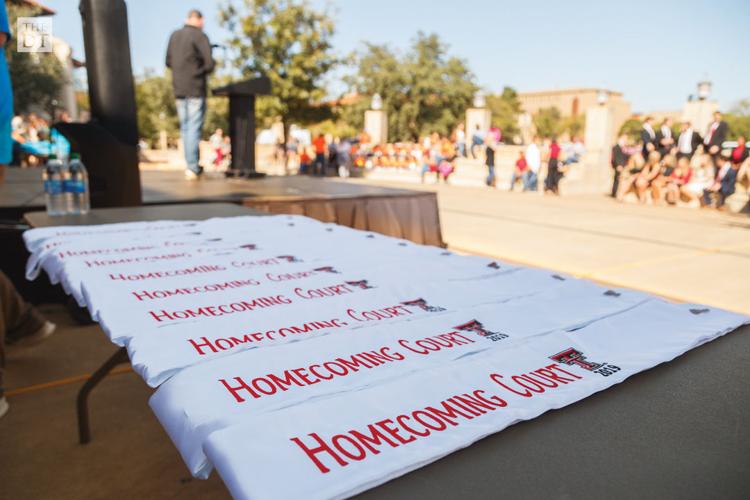 Bethany Deluna, Student Activities Board spirit and traditions coordinator, said organizations can submit homecoming royalty candidates as they fill out Homecoming theme applications. From there a blind resume screening is conducted by judges and representatives from around campus. 
From there the candidates are narrowed even further. 
"When they get to the top ten in each (royalty category), they'll submit those people and then they will then perform interviews," Deluna said. "The interview committee narrows it down to the top five in each category," she said. 
With only ten candidates selected from various organizations for the homecoming court, many candidates ended their homecoming royalty run at the Rowdy Raider Rally Event. 
Baahir Jinadu, a senior mechanical engineering major from Bakersfield, CA, is the president of Tech Black Student Association (BSA) which had a candidate of its own submitted for Homecoming Royalty. 
Jinadu expressed that he was grateful to have BSA's candidate, Ivone Walker, make it as far as she did. 
"I really wanted to see our Homecoming candidate hopefully make history and make the top five in the Homecoming Court," Jinadu said. "Unfortunately, it didn't happen, but we're still happy she made it to the top ten. Hopefully next year we can do better." 
The events hosted by the Tech Student Activities Board bring out students, creating opportunities for them to unite and celebrate Tech Traditions. 
Homecoming Kickoff and Rowdy Raider Rally Chair Natasha Hicks said she enjoys being involved in the festivities.  
"I've always loved school spirit and have really enjoyed the experience of getting to know all these people," she said.  
Others expressed their emotions and similar sentiments for the experience of Homecoming and how it impacts the Tech and Lubbock communities. 
Ashton Colquett, senior finance and marketing double major from Lubbock and queen royalty from Tech's President's Select, said she was surprised to have made it to the final five queen candidates. She said decided to run for the court because she has fallen in love with the university throughout her four years as a student at Tech.  
Colquett also stated that she wants to continue impacting people. 
"(My) goal is just to keep impacting people and showing people that Texas Tech is here to serve them as students and as faculty," Colquett said. "Just to kind of keep the Texas Tech spirit alive"  
Finalist of the 2019 Homecoming King court, John Smithwick, expressed a similar excitement for the homecoming atmosphere. 
John Smithwick, an animal science major from Lubbock representing President's Select on the Homecoming court, said he wanted to experience being fully immersed in the spirit of Texas Tech and Homecoming Week after seeing friends indulge in the process. 
Homecoming serves as daily reminder to students, alumni, and member if the community in Lubbock that this is home and we all need to enjoy the experience that is Texas Tech University, Smithwick said. 
Smithwick expressed the importance of giving back to and creating a better community. 
"The biggest thing I would like to do is continue to work to unite the community of Lubbock and the students of Texas Tech University," he said. 
Smithwick said that being from Lubbock he already sees a great bond between the campus and community, want all students to feel the same bond and that the community of Lubbock is their home. 
"We are all in this together," he said. "This is our home and our experience." 
Voting for Homecoming King and Queen ends Friday night at midnight. To vote log on to www.ttu.edu/vote/.

The King and Queen will be crowned at half-time during the football game against Iowa State on Saturday.