Supporting sports teams from the sidelines is not the only experience Texas Tech spirit teams will miss this semester. But looking back at past milestones can provide insight on how far the teams have come this year.
Tech Pom Squad and Cheer had their semester cut short as the risk of COVID-19 prompted the cancellation of classes and athletic events on campus. With not being able to attend the National Cheerleaders Association and National Dance Alliance Collegiate Cheer and Dance Championships, which would have taken place last week in Daytona Beach, Florida, along with other events, the two teams missed out on different experiences.
As the spring semester comes to an end, each team faces a variety of challenges but continues to reflect on past experiences.
Pom Squad
Erin Alvarado, Tech Pom Squad head coach, said about eight members of the squad were on their way to Kansas City, Missouri for the Big 12 Men's Basketball Tournament in early March.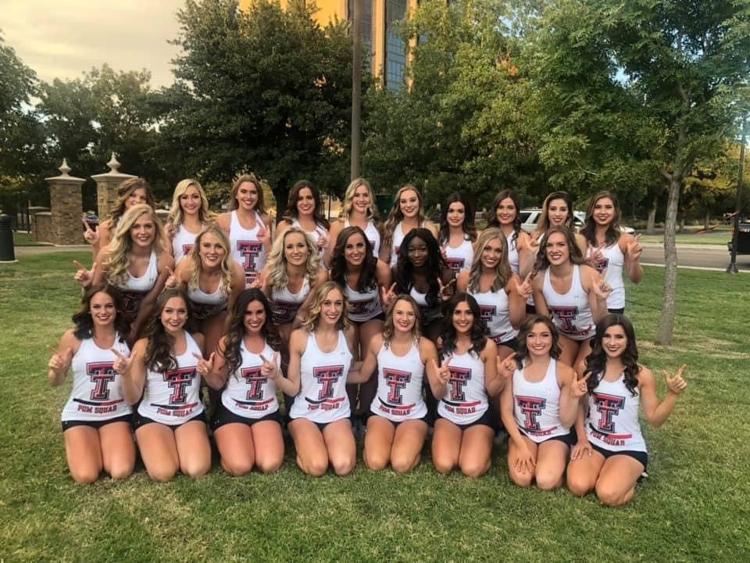 "We were about three hours outside of Kansas City when everything started getting cancelled," she said. "It was when the Big 12 had said they were not going to have any fans, so we made the decision to keep going to Kansas City and then spend the night, turn around and come back the next day."
At that point, Alvarado said the national competitions were not yet cancelled. Later that week, the squad was supposed to have a few days off and then practice for nationals during spring break.
"We were already practicing for nationals, but we kind of (amped) it up during spring break," she said. "So, unlike all the other college kids, our kids come back and practice about eight hours a day, every single day for that third week of March."
During those few days before the spring break practice, Alvarado said she kept thinking the national competitions would have been cancelled, but she had yet to hear anything official.
"I felt like I could kind of see the writing on the wall and rather than put them in harm's way and potentially harm other people, I had kind of made the executive decision to keep them at home and not come back to Lubbock for practice," she said.
About 45 minutes after Alvarado told the squad, information was released that nationals got cancelled, she said.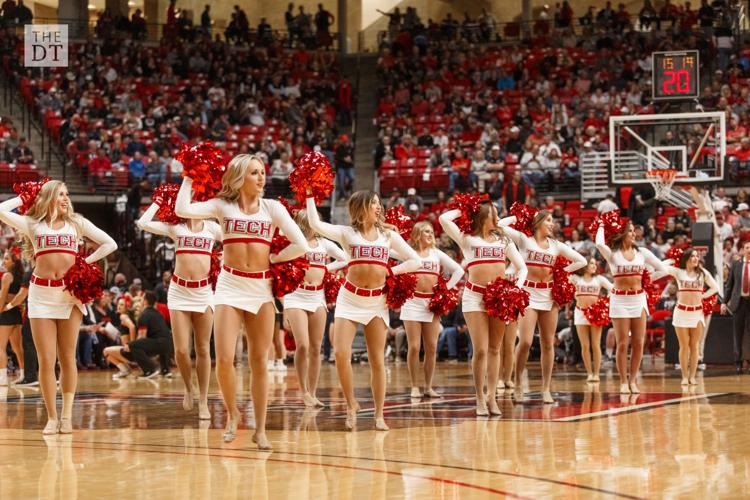 In addition to this event, the team missed out on attending the American Dance/Drill Team Nationals in Dallas near the end of March and the NDA Collegiate National Championship, Alvarado said. April 10 would have been the day the quad would have known if they won another championship.
Despite missing these events, Alvarado said the team went to NDA Summer Camp in Las Vegas, Nevada last summer where the team won the overall gameday award, which is one of the highest awards a team could have won at the camp, and the team unity award.
The team also won the Go Be Great award, which is a national community service award, Alvarado said. The team also has done over 100 appearances during the last football season.
Regarding the possibility of upcoming events for the fall semester, Alvarado said plans for the chance in-person classes are back in session for the fall and any worse-case scenarios are being considered. As of right now, the program is in a holding pattern.
"We're kind of just trying to be flexible and open-minded while still being there for our students," she said.
In addition to national championships and other competitions, the process of saying goodbye to the graduating seniors and welcoming the incoming Pom Squad members has been affected in a variety of ways.
For those applying to be on the Pom Squad for the fall, Alvarado said the team is hosting tryouts, which were supposed to take place in-person during that first weekend in May, virtually. Applicants will send in videos of them presenting their skills.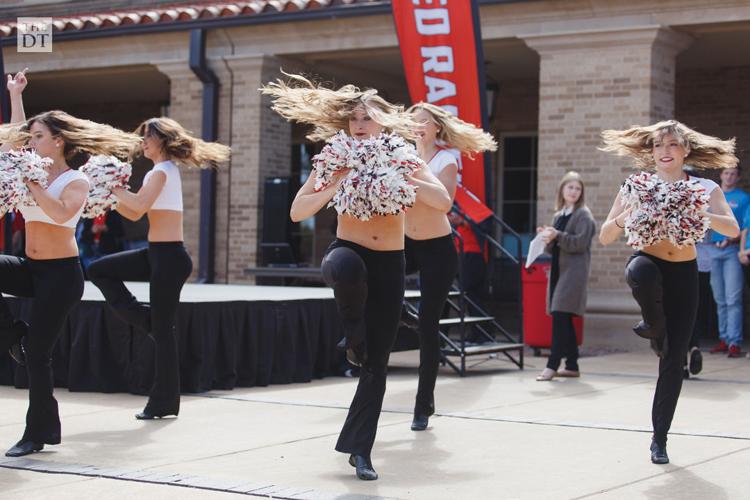 As of now, Alvarado said they will offer positions on the team to certain applicants.
"Rather than posting who makes our team, which is what we usually do, I'm contacting these students individually, one-on-one and offering them a position on the team once their application is complete," she said.
The tasks after selecting new members is another process Alvarado said is planned.
"After our auditions online, we're going to practice online, we're going to practice through Zoom meetings and get ready for football season just like we would any other time," she said.
For ways to honor this year's Pom Squad, certain changes had to me made as well.
An end-of-the-year banquet is one tradition Alvarado said she hopes can be rescheduled for the fall. Regardless, the team continues to keep in touch via Zoom and will celebrate their accomplishments.
Along with recognition for the entire team, Alvarado said she is trying to figure out ways to honor the senior class. Videos will be made for each senior that will show them what they experienced during their time on Pom Squad.
"They've done College World Series, they got to go to the Final Four last year for men's basketball, they've won four national championships, they got to go to a bowl game their freshmen year, they danced with the Dallas Cowboy's cheerleaders, they got to do a lot," she said. "While yes, it's easy to think what they didn't get to do, because that's what just happens, we were trying to make it a positive in showcasing all of what they did get to do."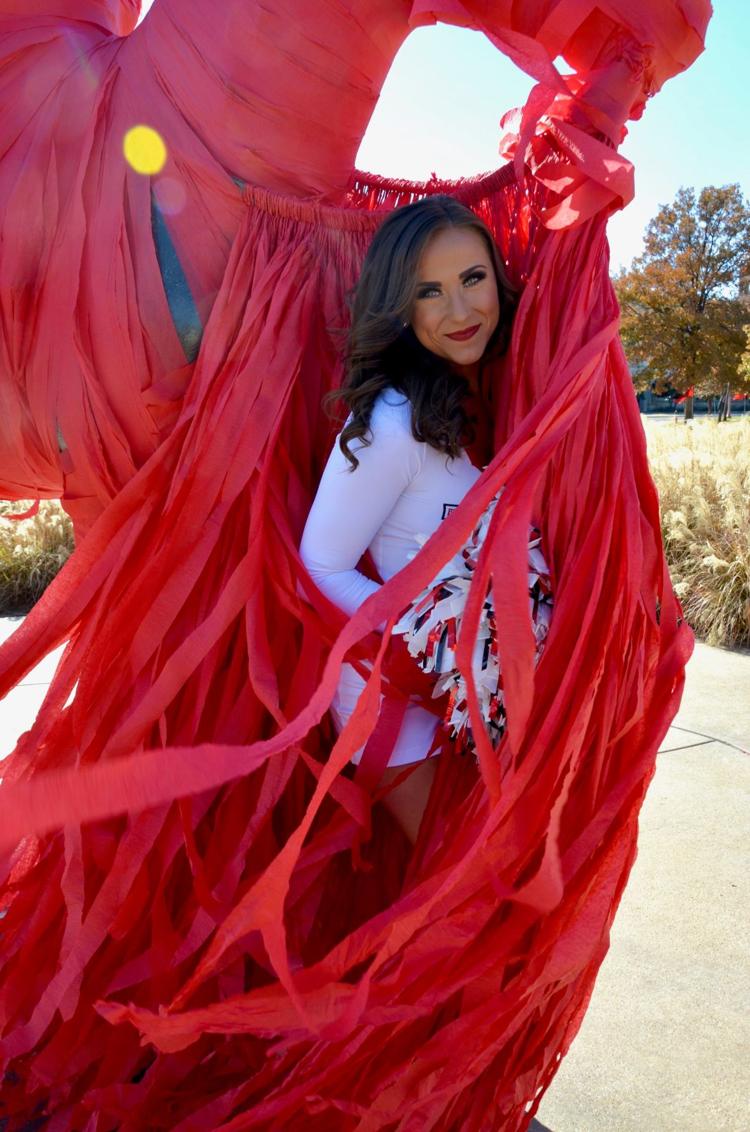 Jordyn Groover, a senior marketing and management major from Pearland and member of the Tech Pom Squad, said she has been on the squad since she was a freshman. Missing out on different opportunities was scary, but she realized she needed to look on the bright side.
"Especially being a senior, I try to make that a priority because I know that I have girls counting on me to lead the team," she said.
Being a first-generation student and being a part of groups, such as Pom Squad or President's Select, walking at graduation would have meant a lot to Groover, she said. But missing out on the ceremony will not take away from any of the experiences she has had during her time at Tech.
Whether it be going to nationals, traveling to West Virginia to perform at a game or simply having fun with teammates at the annual Christmas party, Groover said there are a lot of fun experiences she has gotten while on Pom Squad.
"For Pom, I think definitely getting to dance with Vanilla Ice in the half-time show," she said. "I feel like I can speak for my entire team on that. That was one of the coolest things to see the entire arena standing up and having fun. I just remember being so present in that moment and realizing this is where I supposed to be."
Cheer
Bruce Bills, Tech head Cheer, STUNT and mascot coach, said even though it was understandable that events had to be cancelled and campus had to be closed due to the risk of COVID-19, these changes still were heartbreaking for Cheer.
For Cheer, Bills said there are two squads: the co-ed squad and the all-girls squad.
Tech Cheer also were heading to Kansas City, Missouri early in March for the Big 12 Men's Basketball Tournament when they heard the news about different cancellations.
After heading back to Lubbock, Bills said he let the students go start their spring break plans.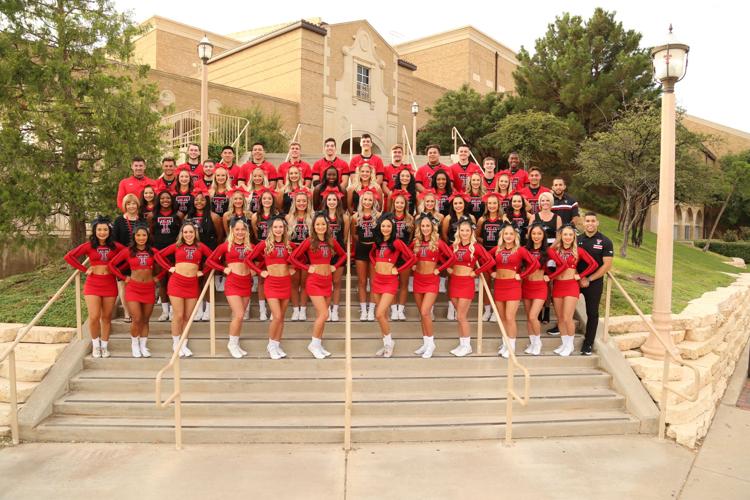 In addition to the tournament, Cheer was getting ready for their final performance for the national competition in Daytona Beach Florida, which would have taken place on April 10.
During spring break, Bills said Cheer typically practices a lot for nationals and getting everyone familiar with the different routines. Before spring break, NCA had not made a decision regarding the continuation of the national championship.
A few days later, a decision was made that the national championship would be cancelled.
"Sunday night, March 15 is when our season officially ended," he said, "just because that's what we were leading up to. We knew that sports were cancelled, so that aspect was off the table. Then, our competition was our last hope and driving force."
Upcoming, Bill said the team typically takes part in summer training and camps as well. The decision on those being carried out still is pending.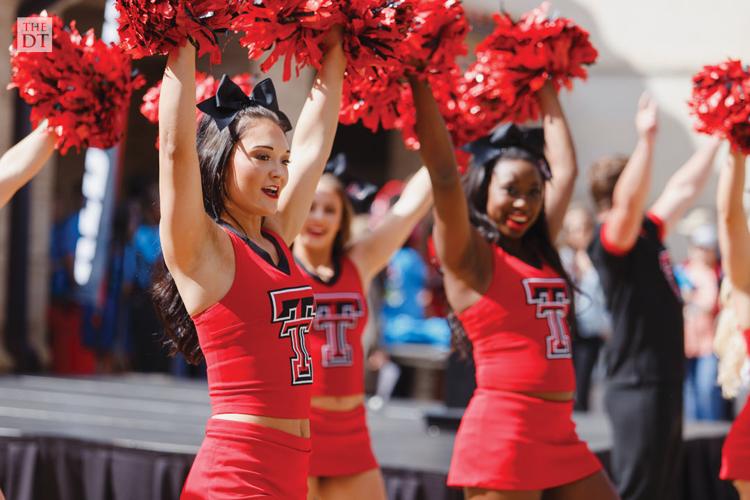 In addition to the different events that have been cancelled, the team's tryouts also have been impacted.
Similar to Pom Squad, Bills said the team will host virtual tryouts for those wanting to join Cheer for the upcoming year. Tryouts will be challenging, as people will be dispersed across the country and will not be able to perform in groups.
"A good thing for us is everybody has videos of something," he said. "So, they've been going back through, I think the recent year of practices and competitions, things like that, and collecting their videos of them at these competitions or practices or just out on their own and submitting those."
Despite all the aspects of Cheer the event cancellations and campus shutdowns have impacted, the team gained a variety of experiences this past year.
Last fall, Bills said the Cheer squad had a 3.2 grade point average, seven members on the President's List and 15 members on the Dean's List. The squad also covered 52 athletic events this past year.
The squad also tallied 85 public appearances up until winter ended.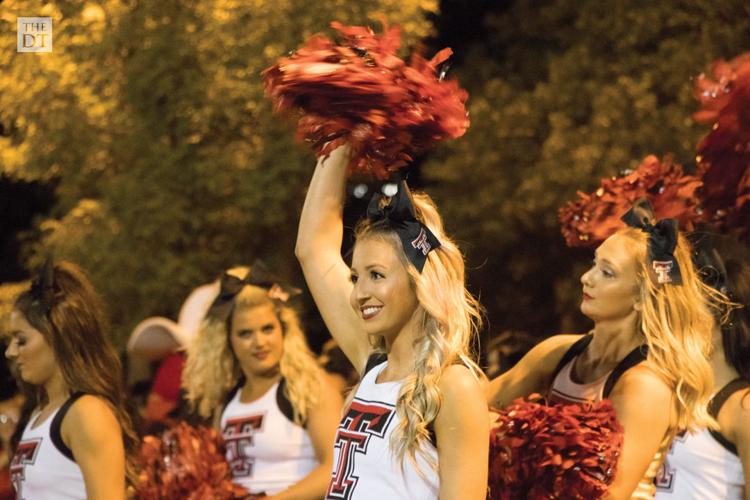 "I'm very proud of all of that, the accomplishments they made in the classroom, representing Texas Tech in the community," he said, "and both squads really developed working on great routines."
In the future, Bills said he hopes to use some of the good routines the team has developed, as some routines were not able to get used.
Regardless, Bills said he and the team will take part in a Zoom meeting where they will watch a slideshow of their past events and accomplishments to bring some happiness and closure to both squads.
"We still accomplished a lot just from the team dynamics," he said. "We had a great group of athletes representing Texas Tech well. We had a lot of good memories traveling to the football games. You know, the basketball season was great. A lot of good memories."
Paige Sohovich, a junior marketing and management major from Fontana, California and member of the Co-Ed Cheer Squad, said the year being cut short was heartbreaking for everyone, whether it be the seniors who will not finish their year normally or the freshmen who did not get the chance to experience certain events.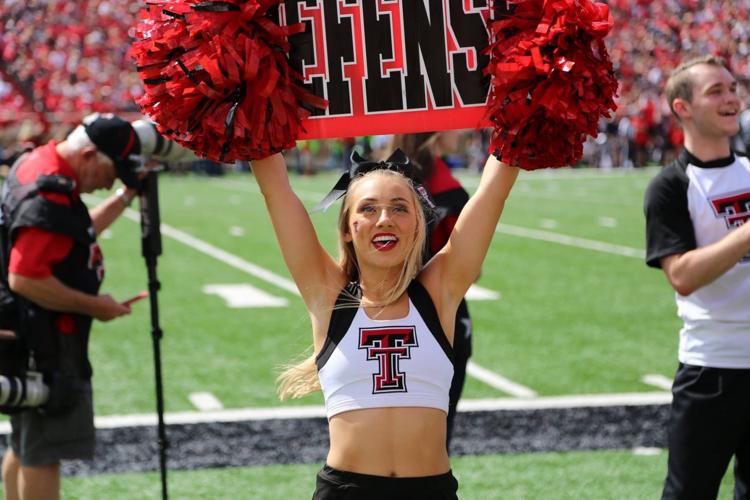 "The day just goes by, and you're just doing schoolwork instead of having a set routine and practicing and seeing everybody's faces and staying positive for the year to come to an end," she said regarding her not on campus.
Cheer practice would take up a majority of Sohovich's day, she said. A lot of work is needed from the team for just one cheer routine.
"It's just trying to find that balance," she said. "I feel like I don't have that balance anymore."
Despite the impact of these cancellations on Cheer, Sohovich said she has different fond memories of this past year.
"Working out was definitely a positive for me just to get a restart and refresh for my day," she said. "The [6 a.m. practices] I definitely love just waking up and seeing everybody's faces."
Looking Ahead
Stephanie Rhode, program director of the Tech Spirit Program, said is staying realist but also optimistic about the future of the different spirit programs.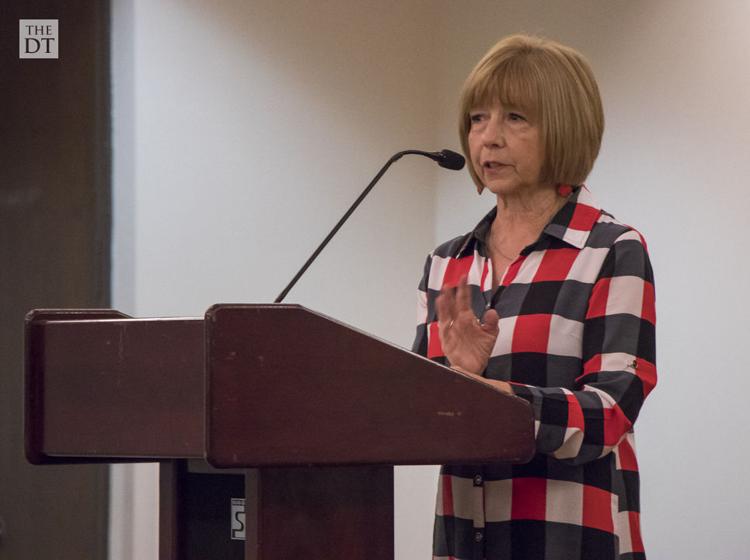 "There's just so much we don't know," she said regarding COVID-19 and whether certain events can be hosted in the future.
"Bruce is the best cheer coach in the country, and Erin is the best dance coach in the country," she said. "Texas Tech is extremely lucky, I'm extremely lucky to have the honor of working with them every day."
The coaches are inspiring and innovative, and they desire to represent Tech at its highest level, Rhode said.  With great coaches, great students also are attracted to the Tech campus.
Regardless, Rhode said Tech deserves recognition for the spirit programs and the coaches and students who are a part of those programs.
"That's what Tech deserves, that's what Lubbock deserves," she said.
Tech is an entity that is larger than people realize, as there are multiple current students, prospective students and alumni a part of the campus community, Rhode said. Members of the spirit programs work to achieve the best representation for the university as possible.
"In Lubbock, it's pretty much Tech," she said, "and so, we all really desire to elevate and to make the whole country know how special Tech is."