Art always has been a part of Lubbock local Joey Martinez's life. From the time he was 12 years old and started painting over gang graffiti to make his neighborhood more positive, Martinez said art always has been one thing he is passionate about. 
When Albert Gutierrez, owner of Now We Taco'N, approached Martinez and asked him to paint something in one of the empty spaces on the outside of his restaurant, he agreed. Martinez said Gutierrez wanted either a picture of Patrick Mahomes or Texas Tech men's basketball head coach Chris Beard but left it up to him to decide. 
"I had been searching for images, and I came across an Oakley ad with Mahomes, and I was like, 'Oh, that'd be awesome,' you know. I mean, it wasn't him like dressed in uniform, it was just like (him being) more of a person. It had a really hip look, and I wanted people to feel connected to it in some way or another, like, just know that he's here in Lubbock, and he did his thing," Martinez, a Tech alumnus, said. "It's just a really cool image and it's like I said, it's hip, it's modern, and, you know, I think the Tech students could relate to it somehow or another."
Gutierrez first met Martinez three years ago when Now We Taco'N still was a food truck, he said. He heard about some of Martinez's work and introduced himself, and the two became friends shortly after. 
The reason Gutierrez said he wanted to have something painted on the side of the restaurant was for the community to enjoy while also driving business.
"I've seen upwards of 500 people already stopping just snapping pictures and stuff," Gutierrez said. "I hope it's eye opening. I hope it helps our community understand that that's not graffiti, you know. It's a beautiful piece of art, you know. Something like that can light somebody's day. Somebody's just walking by who's having a tough day or whatever, they look at it, and it puts a smile on their face."
Gutierrez gave Martinez a location for the painting, so he said he had to figure out what would look best in that spot, have the best composition and stand out.  
"I Photoshopped the image inside of the area, and I was like, 'You know what, that looks great. It looks great the way it is, and that's what I'm going to go with.' I showed it to (Gutierrez), and he approved it, and I just went from there," Martinez said. 
The day before he painted the mural, Martinez said he went and sketched it out in the space around the time the cold front started to roll in. He went and painted the mural early the next morning, and the entire process took about three hours. 
Martinez said he wanted to get the mural done in one sitting because he wanted to give people more time to appreciate it. He also knew the first football game was approaching and wanted to help get the fans excited. 
"When I start something, I really want to get it done as quick as possible," he said. "I was like, 'You know what, I got to get this done. I can't leave it with people walking by and it looking like a mess.' You know, I want people to really appreciate it during the day, so yeah, I went over there, knocked it out and, you know, it was fun."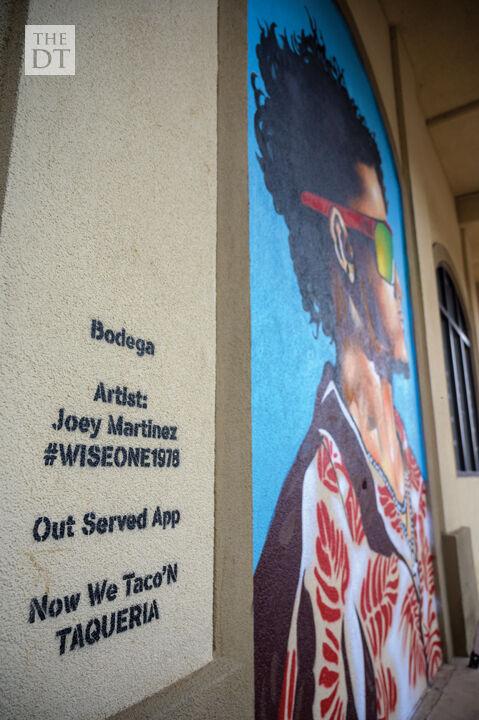 The reason Gutierrez said they decided on doing a Mahomes mural was because they wanted to do something as a tribute to him and all the good he has done for the Lubbock community. 
As a Tech alumnus and Lubbock local, Martinez said he is proud to serve and honor his community through his art and is grateful for the support he has received from Tech fans and people he grew up with. 
"It means the world to me, knowing that people that I grew up with in Lubbock appreciate it more than Tech students…most of us are diehard fans, you know, we all have been, so that right there means the world to me knowing that I'm making my community proud," he said. 
When he was younger, Martinez said he and his friends would watch Tech football games through the fence at Jones AT&T Stadium. Now, years later, he is happy he gets to give other people the same sense of pride he feels through his artwork. 
"I grew up north of Tech, which is the arts and events area, and, you know, to make my neighborhood proud of me means the world to me," he said. "I've got it left and right where people are just constantly approaching me and telling me how proud they are of me, you know, so it really makes me proud of my community, my friends and of course Texas Tech."
To see more of Martinez's work, visit his Instagram @wiseone1978.