If Karli Guerra had been asked to envision her summer just a couple of weeks ago, she would have pictured herself in Houston on a paid internship working for private home builder Highland Homes - a career building opportunity she had been looking forward to for months. 
Instead, Guerra, a junior business management major from Missouri City, is now on the hunt for a new summer job - any job, regardless of whether it is in her chosen career field. Like many others, Guerra's original plans for the summer were derailed due to COVID-19, as she learned in late March. 
"(My internship supervisor) expressed that they were going to shut down the program entirely in all their branches of the company and had expressed that they were having to look out for their employees first," Guerra said. "Because I mean, with the economy being so bad and everything, the first thing that they could lay off that wasn't affecting their employees would be the interns."
Guerra is part of a growing cohort of students across the nation who have found their summer internships cancelled or altered due to COVID-19. 
According to an April 24 survey conducted by the National Association of Colleges and Employers, 19 percent of responding employers are revoking offers to interns. Based on 75 responses, about 70 percent of offers to interns for Summer 2020 are being revoked.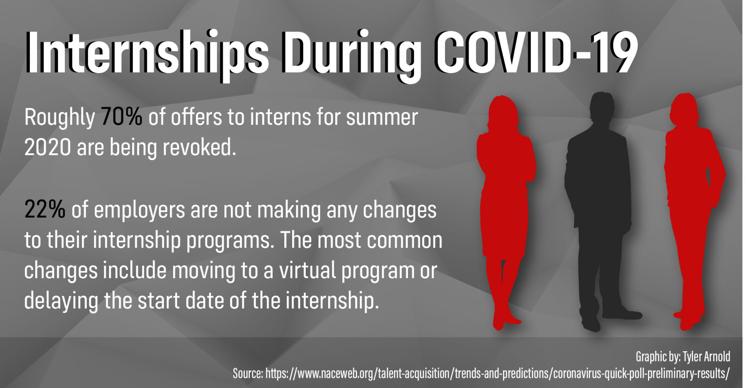 "I think the folks who were looking to do an internship this summer or maybe going into the fall and are seeing, and I haven't talked to anybody for whom this has been the case, yet, but if they're seeing that opportunity go away as a result of economic issues or social distancing issues, you know obviously that can be a missed opportunity," Robert Peaslee, associate professor and department chair for the Department of Journalism and Creative Media Industries said. 
In his department, internships are required for journalism majors to graduate and highly recommended for CMI majors, he said. Particularly for the relationship driven industries students in his department often enter, internships can create professional connections which are key for students to establish themselves in the beginning years of their careers. 
For Guerra, her cancelled internship was a missed opportunity to make an impression in the construction industry, an industry in which experience is almost required, she said. 
"I really, in my personal opinion, I feel I really needed that in order to be even looked at as a graduate coming out of college because I am just a (business) management major," she said. "I'm not like a construction science major, so for me to have that experience would have showed other employers that, like, I have had an opportunity to work in the construction industry."
In general, internships, particularly those that are paid, lead to increased chances of job offers from employers down the line.  According to the National Association of Colleges and Employers, 66.4 percent of the Class of 2019 who participated in paid internships received job offers, while 43.7 percent of unpaid interns received job offers. In total, 53.2 percent of all graduating senior received at least one job offer. 
"Obviously the paid internship is the gold standard," Peaslee said. "It's what you want above all else and they're more common than they used to be. We may see fewer of those over the next few years as a result of all of this."
This summer's wave of cancelled internships puts Guerra's entire class back in the sense that there will be more competition for a limited number of spots as interns in the next year, she said. 
"Usually most people get internships when they're juniors, so now if I have to go get another internship, like find an internship my senior year out of gradating, so is everybody else that's lost their internship plus all the upcoming juniors," she said. "I feel like there's going to be a lot more people applying for these internships."
On the other hand, although it is unknown what the economy will look like once social distancing measures subside, in a rough economy, unpaid internships can boom because there is a higher need for people to do work and be compensated in other ways than pay, such as academic credit, Peaslee said. 
If students do find their internships have been cut, they should take the downtime to continue learning, Jay Killough, managing director of the University Career Center, said. Texas Tech offers online distance courses and certification programs they can take advantage of. 
"Get a certification during this time where internships may be delayed and that way you can still shows an employer come summertime or even in the fall you've still been working towards a goal, that you've been bettering yourself and working towards a goal during this quarantine time," he said. 
For students in this situation, it is time to be entrepreneurial in replicating the the professional experience and networking internships offer, Peaslee said.
For students in his college, that would entail developing content with peers and recent graduates including YouTube channels, short films, web series, etc., he said. While the advice may not hold as well for students in other colleges, he would make the same recommendation to them within their own fields.  
"You can move the needle on your individual brand as a professional in ways other than being involved in an internship," he said. "It's harder, it's less definite, it's more self directed, and obviously you know, there's the potential that it doesn't work out even if you put the time in, but generally if you put the time in you're going to get something out of it."
Students can overcome the challenges and setbacks that have come with COVID-19, Guerra said, just as students in 2008 overcame the challenges that came with a crashing stock market. Many 2008 graduates went on to find success despite cut internships and job offers, and the same is true now. 
"I still feel like I can be successful even with all of this going on for however long it's supposed to happen, but it just might not be the ideal, traditional way that I had always pictured my career path going," she said. "I just have to be able to adapt, and you know, figure it out a different way."