The Speed Caricatures event took place at the Student Union Building Courtyard as a part of Texas Tech's Homecoming week events. Students came to see themselves sketched into cartoon in 30 seconds due to the time limit the artist had. The event itself was free to all students who presented their Tech student ID.  
Michelle Morris, the president of the Student Activities Board and a junior public relations major from Mesquite, said within the first hour of the event opening, there was an influx of at least 75 students thus far, with an expected minimum of 150 students before the event ends.  
"We've done this event before," she said. "We've done a slightly different one called 'Speed Sketchers.' This time we partnered with 'Everything But The Mime.'"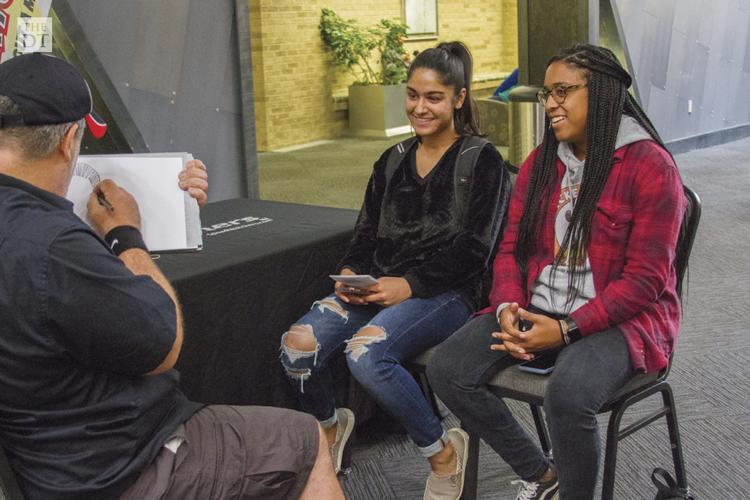 Morris said the reason for there only being one sketcher is because he works in his own company within the organization.
Morris says that this event is perfect due to the nature of it, with it being something eye-catching, quick, and available for students to partake in prior to or in transition between classes.  
Rama Balaga, a sophomore science major and international student from India, said the event was brought to her attention upon seeing fliers around her residence hall.   
Balaga said the event was something new, explaining that overall the product was worth the wait. The wait was around 20 minutes from her experience; however, she said the artist for his dedication and effort that he put into each sketch. 

"I saw the event on Instagram, out of all the activities of the week, this was the one that caught my eye," Michelle Galdamez, a public health and public administration graduate student, said. "The drawing is good, it's funny and I feel that it does capture my image."  
Galdamez said the artists had been performing well when taking into consideration the magnitude of people and the rate at which he continued to draw.  
The artist is not drawing for the sake of an obligation, rather, he is giving his best attempt to capture the essence of every student, Galdamez said.  
Galdamez said one potential improvement of the event is in its publicity, as attempting to locate times on Instagram. If someone were to miss the first post of the event, it would then transform into a hunt in order to find details of the activity.  
Both Balaga and Galdamez both said the event would benefit from the addition of at least one other artist, as a possible thirty-minute wait for a thirty-second sketch can be a deterrent to some students.   
"I think students should partake in these events because it helps with the entire excitement of Homecoming week," Morris said. "I think people getting to partner, participate in these different events, and being able to take things that they get to do really just helps out with the excitement of the whole week."