Driving into the 19-mile zone surrounding a nuclear power plant in Chernobyl, Ukraine, Ron Chesser observed villages and cities alike containing houses, schools, businesses and other familiar marks of civilization. 
However, one factor set this area apart during his 1992 visit: not one person resided then, or now, in what is now known as the Chernobyl Exclusion Zone.
"It was like a ghost town," Chesser said. "In some areas it literally looked like people were there a few days before. You see their belongings and you can see their books and pictures on the wall and much of their life is just laying there."
The zone was the result of the catastrophic reactor meltdown at the Chernobyl Nuclear Power Plant on April 26, 1986, according to the Nuclear Regulator Commission website. The accident released extremely high levels of radiation into the surrounding environment and resulted in the evacuation of hundreds of thousands people. 
Amidst this tragedy, however, was an opportunity for scientists like Chesser, now a professor in the Department of Biological Sciences at Texas Tech, who was one of the first American scientists on-site at Chernobyl.
Chesser's path to Chernobyl began with his work at Savannah River in South Carolina, a large, high-security area that had a number of nuclear reactors for producing plutonium primarily for U.S. nuclear weaponry, he said. 
"My work there was on the radiation that had gotten out into the environment and what impact it might have on organisms," he said. "And it was pretty low radiation, but I had wanted to compare the results to that at Chernobyl, which I knew was a much larger release of radiation."
In the aftermath of Chernobyl, he began a dialogue with some of his colleagues to get access, a difficult process, he said. During his first visit in 1992, he went with a fairly large group, but they were denied access to the most highly contaminated areas, which was critical to his work.
Resolved to get this access, Chesser said he returned the next year by himself to stay and negotiate. It took about two and a half weeks before he encountered a member from the Ukrainian Parliament and explained his situation. 
"He called and said, 'Get this man access,'" Chesser said. "Within a few minutes I had a helicopter, and they said, 'Where do you want to go?' and so I flew to different parts of the zone and after that point then we set up a regular program where I brought people back."
Between 1992 and 2006, he said he made over 75 trips to Chernobyl, some of them as long as three to four months. With funding from the U.S. Department of Energy, Chesser also recruited his former colleagues from Tech to Chernobyl. 
In 1992, Chesser was working as a professor at the University of Georgia but had previously spent many years at Tech. Chesser returned to Tech in 2000, when funding from the Department of Energy was being cut and Tech offered to step in and fund the program. 
Carl Phillips, professor emeritus in Biological sciences, said he recruited Chesser at the time after speaking to some faculty at Tech who had been working in Ukraine. 
Phillips also visited the site about six times to conduct research, he said. 
"I was interested in the possible biological effects of radiation on small mammals, species of mice that live nearby," he said. "It was a pretty good model, I think, for understanding what can go on in nature."
The results from the research at Chernobyl were surprising, Chesser said. The team had been expecting to see substantial genetic changes and mutations in the mitochondrial or nuclear DNA of organisms, potentially even physical changes.
However, the differences observed were subtle, he said. It was hard to find anything that showed the radiation had a long lasting impact on the wildlife in the area. 
"The big lesson was that nature's very resilient and that it can recover very, very quickly," he said. "There's no doubt in my mind that early on in those areas where the biggest impact of radiation was that there were probably a lot of pretty major impacts or genetic changes/mutation, but those organisms don't survive, and so the multigenerational impact, almost all those big impacts go away very quickly." 
Another face of Chesser's work in Chernobyl was the development of the Tech Natural Science Research Laboratory Radioactive Collection.
"(The Radioactive Collection) started in 1994 taking radioactive samples from the Chernobyl reactor meltdown area," Heath Garner, curator of collections at the NSRL, said. "This included capturing small mammals that had been exposed to the radiation both in the hot zones and in the areas that were considered control or non-radioactive." 
The collection took shape largely because of the mentality of Robert Baker, a Tech professsor in Chernobyl and director of the NSRL at the time, Chesser said. 
Today, the collection is available for researchers around the world to utilize, Garner said. The collections receive a fair amount of interest, but not as much as it did 10 years ago. 
"Now, it's seen a little more as a curiosity because it happened a long time ago," Garner said. 
As work in Chernobyl began to wind down, Chesser said another opportunity from the State Department presented itself. Because of the work he, Phillips and Brenda Rodgers had done in Chernobyl, they were asked to get involved in inspections for nuclear dismantlement in Iraq.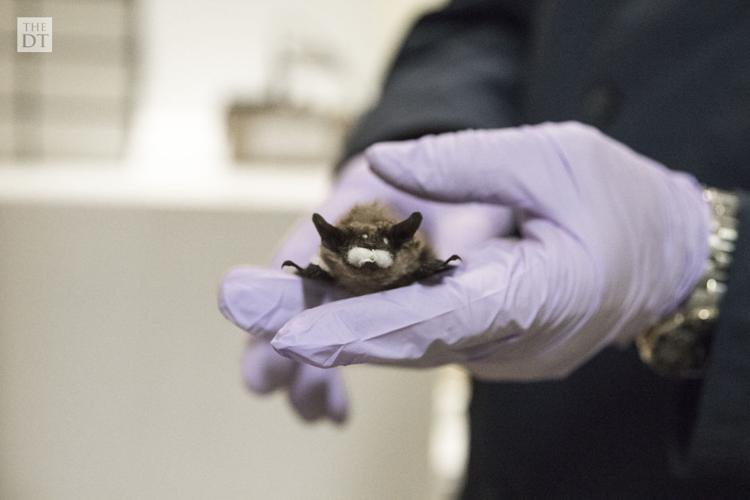 Starting in 2005, he began inspecting the nuclear sites to ensure they were nonoperational and to examine potential radioactive contamination around those areas, he said. They also trained Iraqi scientists in evaluating and dismantling those sites in accordance to national standards. 
The group used the Chernobyl laboratory to train the Iraqi scientists, Phillips said. 
"Ultimately Ron Chesser and Brenda Rodgers and I took a group of Iraqis to Chernobyl and used the Chernobyl experience as a way to train the Iraqis in what they had to look for if they wanted to understand nuclear energy," he said. 
There were dicey times in Iraq, Chesser said. There were gun shots coming into the area he was at. It was frightening but also energizing, he said.
"I got to know a lot of good people," he said, "and it was very rewarding work to be able to do something that you hope is doing good for your country and doing things that you hope are good for the world."
Looking back on his  work in both Chernobyl and Iraq, Chesser said he could not have predicted the path his  career would take. He just went with the inertia, he said. 
"You get caught up and these things are rewarding," he said. "I know some scientists that scoff at this I guess, but you're doing work that has a big impact, and so are you going to turn it down? I wasn't about to."