Like many Texas Tech students, Emily Brodbeck had her academic year cut short due to the risk of COVID-19. But her time on campus may be defined by more than just her experiences in the classroom.
Brodbeck is the 58th Masked Rider at Tech. Even though she did not get the chance to attend all the events the Masked Rider typically attends, the time leading up to the campus closures have been more than enough for this student.
Even before attending Tech, Brodbeck, a second-year wildlife, aquatic and wildlands science and management graduate student from Lubbock, said the Masked Rider always has been a big part of her life.
Brodbeck's father was very connected to the university, and she attended a lot of the athletic events growing up, she said. With Tech always being in the background of her life and having ridden horses since she was 5-years-old, the Masked Rider intrigued her.
Being friends with Makenzie White, the 53rd Masked Rider, also prompted Brodbeck's love for the Masked Rider, she said.
"Ever since then, I've just been obsessed with Masked Rider, so I knew whenever the opportunity arose, I had to do my best, I had to try, see if I could do it," she said.
Before finishing her undergraduate education, Brodbeck said she served as the assistant for Rachel McLelland, 54th Masked Rider. It was not until after she graduated that she decided to pursue the Masked Rider position again as a graduate student.
When applying to be the Masked Rider, which took place around the end of January 2019, Brodbeck said she had to complete a written application, a written exam, a riding exam and a driving exam with the truck and trailer. After passing all these portions, she participated in an interview with the Masked Rider committee.
"I cried a lot," she said regarding when she learned she was going to be the next Masked Rider alongside the horse, Fearless Champion. "I was super excited. A little surprised and not surprised like in disbelief that this was going to be my life for the next year."
The experiences to perform at different games on campus or attend different spirit events are just some aspects of being the Masked Rider.
But with closures of different facilities on campus and the cancellation of multiple events, these experiences started to dwindle.
When the decision was made to transition all classes to online, Brodbeck said she was getting ready to attend different events.
"We were actually getting ready to go to the Houston Livestock Show and Rodeo," she said. "That was our first event that was really cancelled."
After getting notified about the cancellation of the livestock show and rodeo, which Brodbeck was really preparing for, athletic events started getting cancelled, Brodbeck said.
"I was obviously a little disappointed," she said regarding the cancellations. "But honestly, it's for the best. I know the health and safety of everybody and of the population is of upmost importance."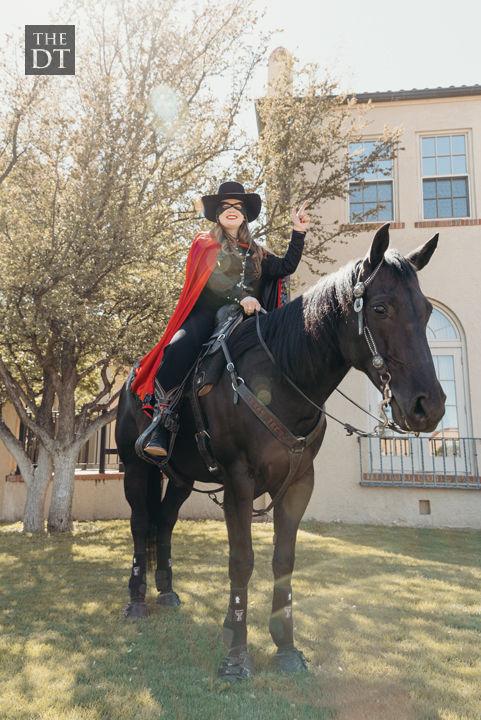 In addition to these events, the Transfer of Reins, which is the event that marks the start of the next Masked Rider's time at Tech, also has been impacted.
Typically, the Transfer of Reins ceremony would take place in April to introduce the new Masked Rider, Brodbeck said. Due to campus being shut down, the selection process for a new Masked Rider has been postponed.
Stephanie Rhode, program director of the Tech Spirit Program, said the applicants who qualified for the interview portion of the application process are on hold.
Regarding this three to four-month selection process, Rhode said the committee and applicants were three days away from the interview when people received notice about campus shutting down.
Despite postponing this process, Rhode said the Masked Rider is one of the most recognizable symbols, which is the selection must be thorough.
"So, we always want to, absolutely, 100 percent, make sure we get the right person in that job," she said. "We really can't afford to not get the right person for the job."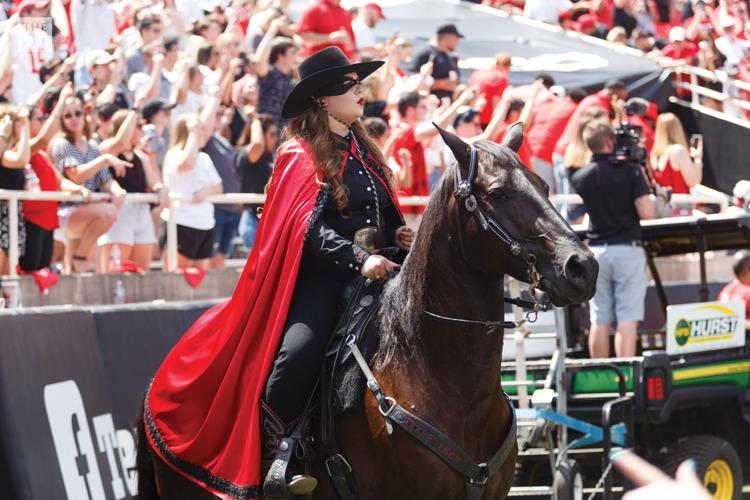 For the 2019-20 academic year, Brodbeck would not represent the university alone, as she would get the opportunity to ride Fearless Champion.
In addition to continuing to be the Masked Rider while the process to select a new one is on hold, Brodbeck she is maintaining the horse in different ways.
Feeding Fearless Champion twice a day, cleaning his stall and providing water are just some of the tasks Brodbeck said she needs to complete.
"Outside of that, I make sure he's healthy, I make sure he's up-to-date on his care or if needs any kind of addiotnal maintenance," she said.
When events were planned, Brodbeck said she would get him ready for events and make sure he is healthy enough to perform.
Taking care of him has not changed much, Brodbeck said, as she still has to ride him almost every day and make sure his basic needs are fulfilled.
"His life hasn't changed a whole lot," she said. "He just doesn't go out and do events."
Regardless, being the Masked Rider has given her more opportunities to get to know Fearless Champion.
Along with connecting with Fearless Champion, Brodbeck she got other opportunities.
"I got to meet a whole lot of interesting people," she said. "I've made a lot of new friends."
Whether it be going to elementary schools to show young students Fearless Champion or performing at athletic events, Brodbeck said there are a lot of experiences she will miss.
The cancellations were factors that ended Brodbeck's time as the Masked Rider, Rhode said.
Regardless, Brodbeck did a magnificent job as the Masked Rider, Rhode said. She set a new record for number of appearances.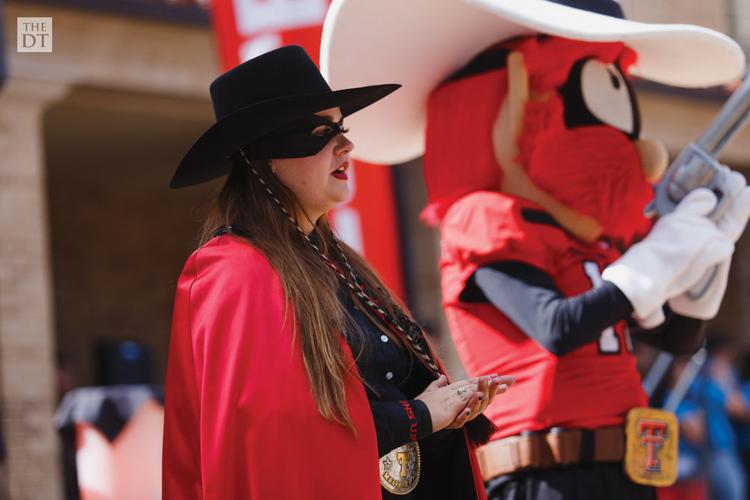 "Emily had done about, in this school year, like 350 appearances, which is just extraordinary," she said. "But all that came to a screeching halt when we had to stop."
Being from Lubbock, Brodbeck has a special connection to Tech that seems to make her want to tackle the challenges ahead of her, Rhode said.
"I think Emily really latched onto that and really wanted to get out and do everything she possibly could," she said. "Emily very very rarely said no to an appearance."
Brodbeck worked to inspire as many people as she could being the Masked Rider, Rhode said.
"I think that was one of the coolest things about Emily," she said.
Whether it be working with the horse or taking part in a variety of events, the Masked Rider gains multiple experiences during their time representing Tech.
The next Masked Rider will have an interesting transition into the position, Brodbeck said. Although, they will have an experience that they should cherish and not take for granted.
"I got to have a unique experience," she said. "No one else has had a year quite like mine."