To give back to the healthcare workers working to combat COVID-19, the Junior League of Lubbock donated masks to the Texas Tech Health Sciences Center Friday.
Nearly 500 masks were delivered to the university's Mask Project while about 400 more will be delivered in the future. Multiple bags full of masks that Junior League of Lubbock members hand-made were delivered at 1:30 p.m. Friday in front of the Tech HSC building.
Sharon Robinson and Marissa-Anne Melakian represented the Junior League of Lubbock during this initial delivery.
"Being a physician's spouse, I knew immediately we had some serious problems with [personal protective equipment] shortages in Lubbock," Robinson said. 
Within 24 hours of the university closing, Robinson said the Junior League of Lubbock needed to act. The group's executive board met and called on members to sew masks.
"It's just been amazing," she said. "Just what we've been able to do in really two to three weeks."
The Junior League of Lubbock is a partner with the West Texas 3D COVID-19 Relief Consortium, which is a group of university faculty and citizens concerned about the issues resulting from the pandemic, Robinson said. Some masks were delivered Friday, while other masks, which are N99 masks, are being assembled.
"Those will go directly for use in the operating room, in the ICU, in COVID-positive units not only here, but in other hospitals," she said.
Megan McCrory, relations manager for Tech HSC External Relations, said she is coordinating the healthcare team initiative to help get supplies for front-line workers. She said the the Junior League of Lubbock reached out to the university.
"There was an initial interest in the community helping our front-liners by sewing masks, and the Junior League of Lubbock was part of that group of people that took initiative to sew masks to donate to us," she said.
Because of this, McCrory said they knew this would have to be a division of support for staff working at the front-lines.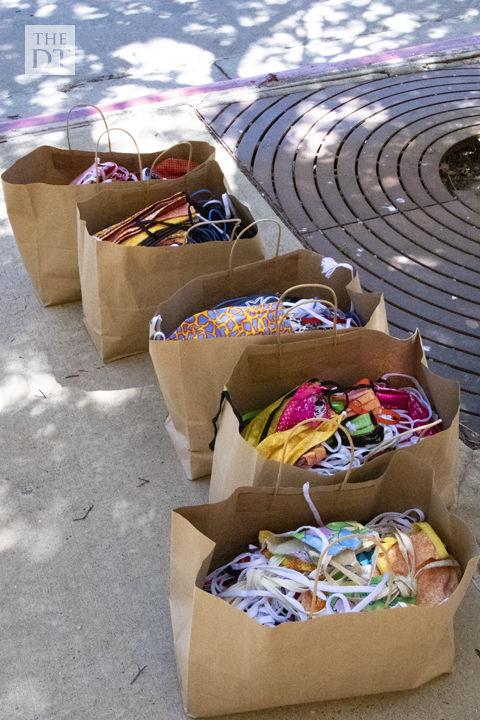 "This donation is not only important because of the quantity that they're giving," she said. "I think it shows a huge moral support from the community to help people who are working at the Health Sciences Center as well as those coming that may not have other resources to obtain masks."
Simon Williams, associate dean for academic affairs in the Tech HSC School of Medicine, said he is one of the leaders of the COVID-19 Relief Consortium. The consortium has been working with the Junior League of Lubbock for quite some time.
"We are thinking we're going to have to go back to work in some stage," he said regarding a reason why more PPE, especially masks, are needed.
The donation of masks will be a lifesaver for when faculty and staff will return to work, Williams said.
"The number of people who have stepped up, and this isn't just here in Lubbock. This is in Amarillo, in Odessa, we have groups down in El Paso, in San Angelo and in Abilene," he said. "The fact that people are just willing to give up their time, they donated their money, they donated resources, they donated materials. This is a unique community that we have in West Texas."