Charlotte Ellis never imagined she would one day step foot into a home she could call her own.
As a single mother of six kids, financial hurdles made the prospect of owning a house seem perpetually out of reach.
"It was just always kind of hard and trying to get, you know, a loan for a home or you know trying to have the right credit to get it," Ellis, a Lubbock resident, said. "It just, you know, costed a lot. It's real hard." 
This past week, however, Ellis watched her hope to own a home come alive as the skeleton of her new house took shape through the efforts of Habitat for Humanity and its partnership with Texas Tech.
"I'm just glad to see it getting started," Ellis said. "This will be a great Christmas gift." 
Habitat for Humanity is a non-profit organization that works to provide affordable housing, Christy Reeves, Habitat for Humanity executive director, said. The organization's vision is to create a world where everyone has a decent place to live.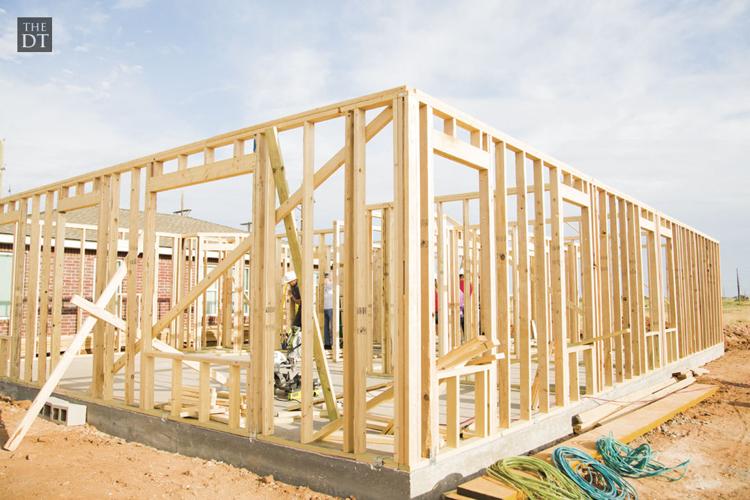 "We just really want to give people a chance to own a home that would never get to do it the traditional way. Like they would never qualify at a bank, but they can qualify with us," Reeves said. "Because most of these homeowners are already paying rent to really bad landlords living at really bad places, and they're paying more in rent then they end up paying for their house payments to Habitat to own a brick home."
Individuals such as Ellis qualify for houses based on their income, their need and their willingness to partner, Reeves said. Those who apply are evaluated by a homeowner's selection committee, and following approval by the Habitat for Humanity Board, are let into the program.
As part of the program, Ellis had to take 150 hours of education classes put on by volunteers learning about budgeting money, finances, home maintenance, etc., Reeves said. Ellis is also required to do 100 hours of construction on her own home. 
"It's called sweat equity, is what it's called," Reeves said. "As they learn to build the house, they're able to learn to fix their home when things break."
Working to build her own home feels good, Ellis said. It sets an example for her kids and shows that she went out and did what she needed to do for a home herself.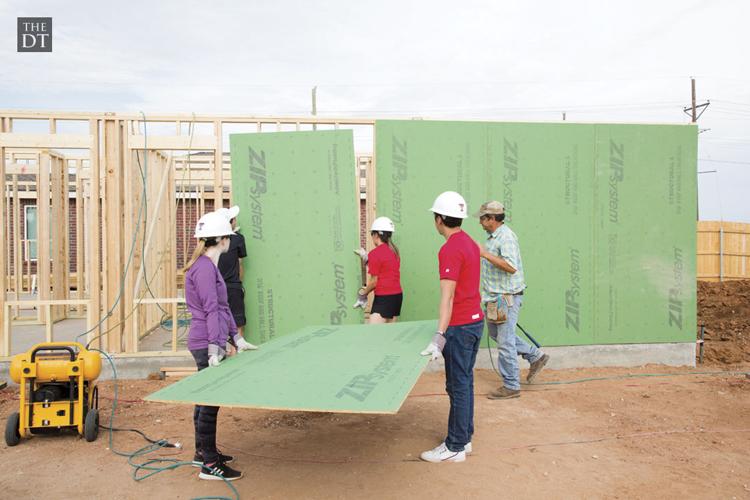 "I first thought I wouldn't be (eligible to own a home) being a single mom, you know who was working like I was working," she said. "I didn't think I'd have enough you know to where I could afford to do it but you know the ways (Habitat for Humanity)  helped me to get it done it, showed me that I can afford to do it, that I can do it, and that I can make it happen so I was really excited."
The build for Ellis' house is made possible by volunteers from the community, including local construction experts, Lubbock residents and Texas Tech students, Reeves said.
The build for Ellis' house is part of an annual Welcome Week tradition partnering Tech's Department of Housing and Habitat for Humanity, Chris Medley, manager for student intervention with residence life, said.
The tradition brings together Texas Tech students and Lubbock community members to work on building a Habitat for Humanity home, he said. Students are recruited to volunteer as they move into their dorms with sign up sheets.
"We have students that want to volunteer during Welcome Week and they want to try and get connected with you know the community and get involved on campus and so it's a really great opportunity for students not only to engage the community but to give back as well and for that matter it winds up being really excellent resume material for students," he said.
Students work four-hour shifts over the course of five days at the site, he said. Around 15-20 students volunteer every day, resulting in 80-100 students total participating in the Habitat build each year.
This year, students have been working to frame the house, he said.
"The students will get a large portion of (the house) taken care of over the span of a week but there'll still be quite a bit of work to do on the house before it's ready for somebody to move in," Medley said.
Working on the site was an amazing experience despite the August heat, Omar Martinez, a sophomore construction engineering major from Mesquite, said. Martinez volunteered with Habitat for Humanity on Thursday afternoon.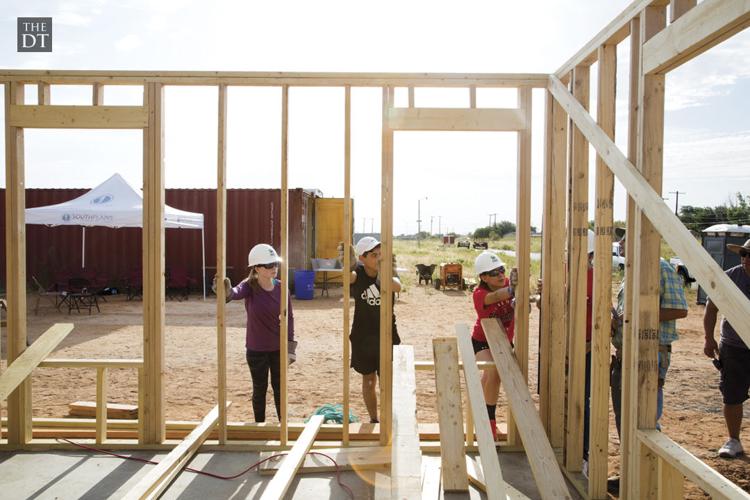 Going in, he was not sure what he would be doing at the site, but the volunteers at the site taught the students everything they needed to help, he said. While some students had prior experience, it was not necessary.
 Meeting and working with these volunteers, as well as other students coming on the trip, was a highlight of the experience, he said.
"I think it's a great opportunity because you could talk to people and actually make connections if your career is for construction or construction management, it's the perfect thing to join," he said.
Most importantly, however, it helps out the community, he said. It is hard being a single mother, and all the volunteers worked to pitch in and build something for someone in that position who needs a home.
"Imagine knowing that somebody's building a house for you to live in, for your kids to live in," Martinez said. "It's a good feeling knowing that you could somehow have a home and to be a part of that is amazing."
Tech's partnership with Habitat for Humanity draws attention to the organization and can inspire others in the community to volunteer, Ellis said. It is also an opportunity for Texas Tech to be recognized for better things than schooling, to play a role in helping families grow, build and become better people. 
"Habitat for Humanity, Texas Tech, everybody coming together as one to do something you know it becomes bigger, bigger than what it is," Ellis said. "It's not just about helping anymore, it's about you know living a dream, living a dream."